Introduction
In late August 76 years ago, the Argylls were pushing towards the Seine River. The Algonquin Regiment had failed to capture the small village of Igoville (a population of about 500) and the Argylls were ordered to take it. It proved a costly day with another page in the Regiment's history written in blood: 14 KIA, 46 wounded, and 16 POWs. In what is called the "fog of war," Headquarters Company and part of the Tactical HDQ blundered unknowingly into the still-occupied village despite frantic attempts to alert them. Three unit DRs (dispatch riders) were killed: Privates Glenn Lewis "Joe" Bearss, Ted Marston, and Lorne Marr. Joe Bearss' son bought a poppy commemorating his father's life. This is Joe's story.
Robert L. Fraser
Regimental Historian

Death in battle is different, Sam Chapman thought:

"He is cut down in an instant with all his future a page now to remain forever blank.
There is an end but no conclusion."
– Capt Sam Chapman, C and D Coys
---
"Joe and Ted were killed before our eyes … Joe was one of the closest chums I had."
— LCpl Harry Ruch's diary note

Born in Grimsby on 6 July 1920, Bearss was the youngest of seven. At 5', 11½", 167 lb, this "serious, conscientious" lad was deemed "co-operative" and "normally sociable." His parents were "separated"; his mother, Ethel Ann Pysher (d. 1947), "worked." His hobbies were motorcycling, hockey, and baseball. Having attended Grimsby High School for two years, he was hospitalized in 1939–40 for five months "from an accident." Working at Carroll's store in Grimsby, he enlisted with the Argylls on 19 July 1940. A qualified rifleman in "A" Coy, he took the "Reg Police Crse" in December 1943.
By 26 Aug. 1944, the Argylls had been in combat for a month and losses were heavy. On that day, Pte Whit Smelser, a friend of Bearss, "remember[ed] … having my dinner with Joe Bears [sic]…. And by this time, Joe was regimental police, and his wind was getting up … really keyed up … And he was, 'I'm not going to get out of here. I'm going to get it.' "
Hill 95 over Igoville
The next day, the Argylls attacked Igoville and BHQ blundered into the town, which was still occupied by Germans. BHQ was immediately under attack. Bearss and two other dispatch riders went in on motorcycles. Smelser recalled: "Pretty soon I saw the [one motorcycle] with [Pte Edward] Marston coming along … And God, they just took him right across there [the chest]. And he got off the bike, took a couple more steps and they laced him again…. Then I heard somebody yell, 'Bring the field dressing, I'm hit.' … And that's when Joe Bears[s] got killed. He got up from behind the hup and was going over to him and they took him right in the head." BHQ surrendered. "Joe was still alive, and he was dying. His face was in the dust and I wanted to get [it] out … and Jerry [said], "Nicht, nicht." The previous day's premonition had come to pass.
Joe Bearss left little: there was a letter and "snapshots" among his personal effects. But there was more, much more. While the unit was stationed in Nanaimo in 1941, he had met Alice May Daniels in Vancouver; they had a relationship and a son. She caught up with him in June 1944 and they exchanged letters. A remorseful Joe wrote to her: "an awful heel … I've kicked myself for two and a half years for what I've done to you." Professing his continuing love," he thanked her "for keeping the boy." He "didn't have the guts to help" at the time but vowed when "this mess is over and if I come out … I would like to square myself with you … so help me God … I love you both," he declared. She replied, but a soldier's fate offered no chance for new possibilities.
Ron Daniels was the boy; he called himself "a brat left over from the war." His mother married but he was shunted off. His grandmother, Ethel Daniels, was his "saving grace…. Always there," she gave him "hope that there was a better life ahead." And there was.


Between 10 and 15 August 1944, 13 Argylls were killed in action and 36 wounded.

"a history bought by blood" – Capt Sam Chapman, C and D Coys


Robert L. Fraser
Regimental Historian

"It would have been nice to know him." – Son Ron Daniels
Note: Joe Bearss' poppy is in the virtual Field of Remembrance: middle cluster, bottom grouping, almost at centre. The Argyll Regimental Foundation (ARF) commissioned Lorraine M. DeGroote to paint the Argyll Poppy (at top and below) for the Field of Remembrance.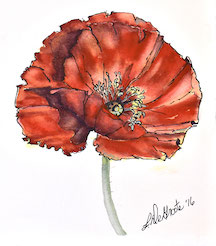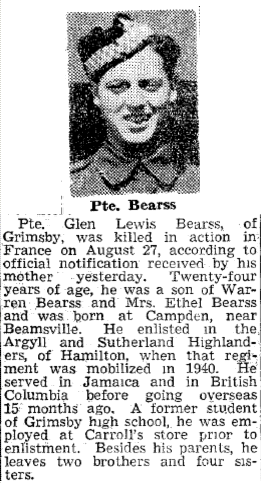 Joe Bearss' obituary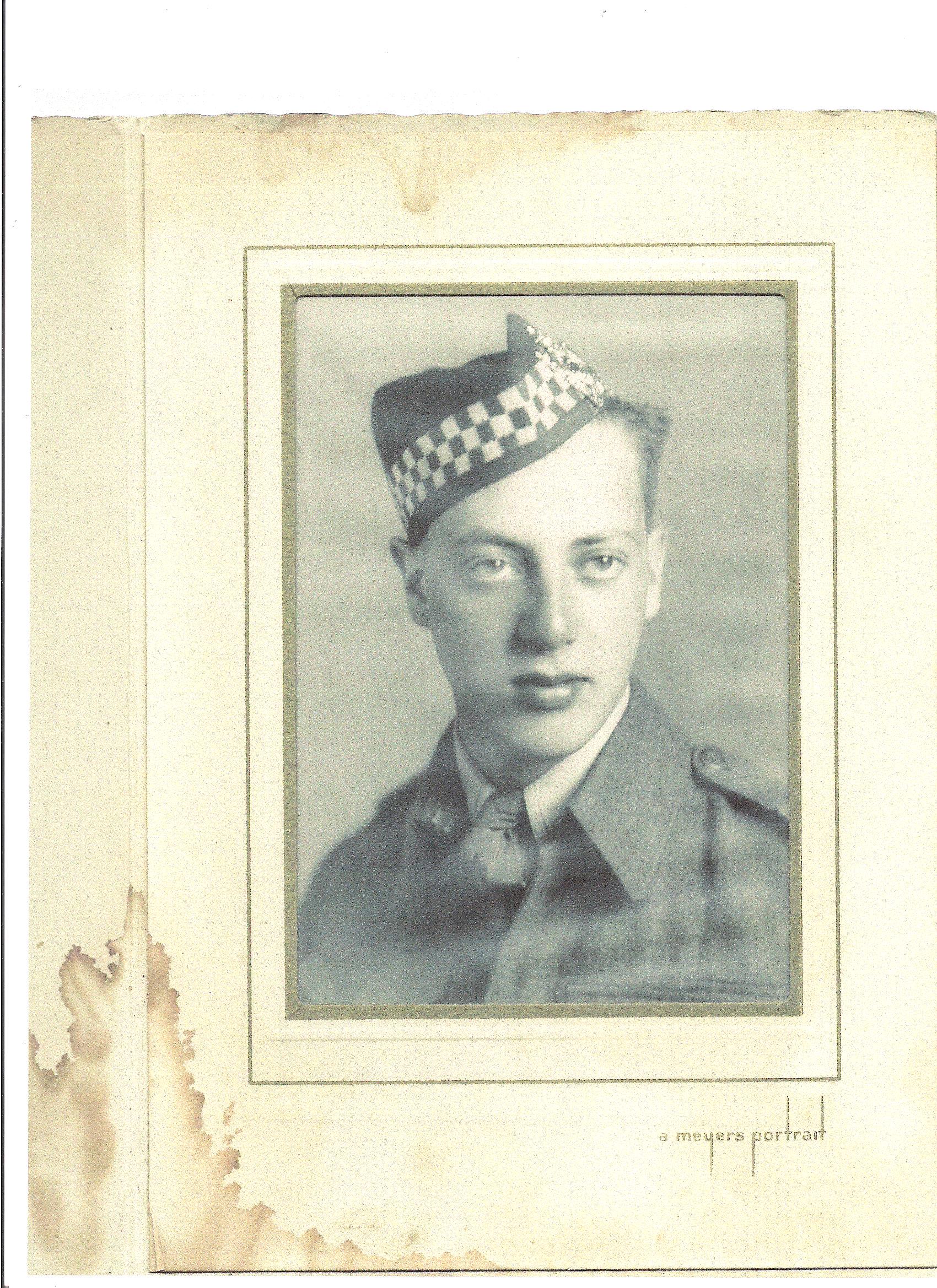 Ron Daniels' mother kept this picture of Pte Joe Bearss.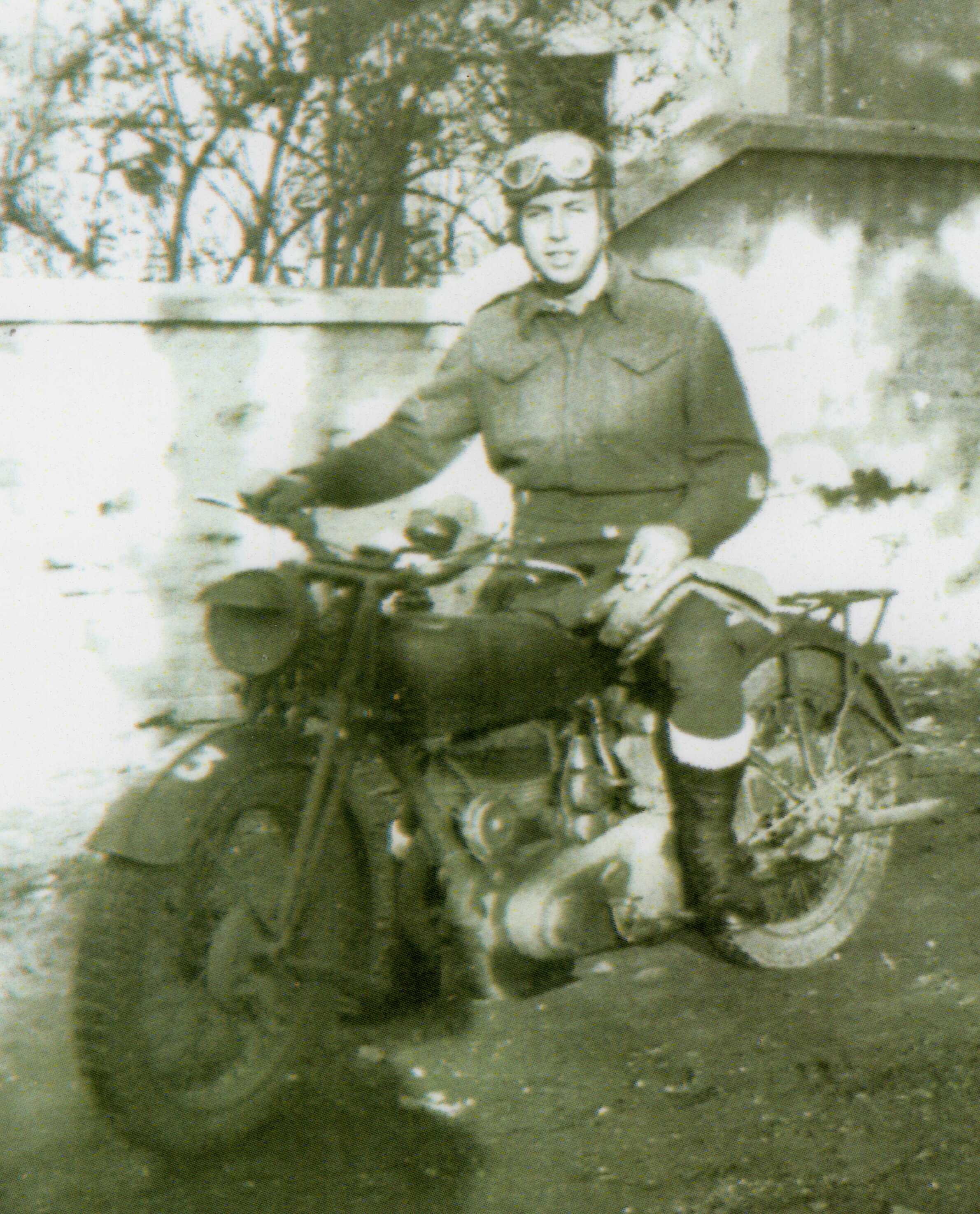 Pte Lorne Marr on his motorcycle.
Pte Ted Marston, 1942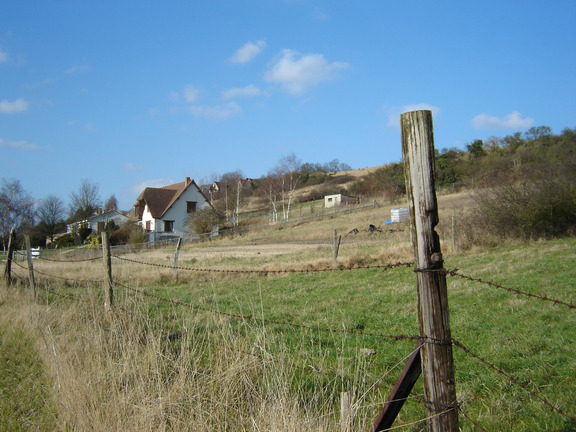 Hill 95 over Igoville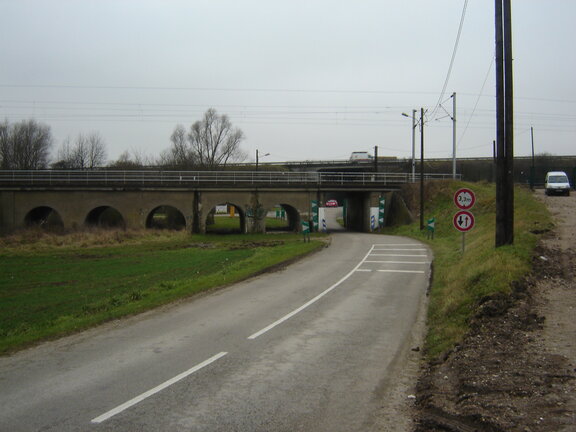 Train bridge, Igoville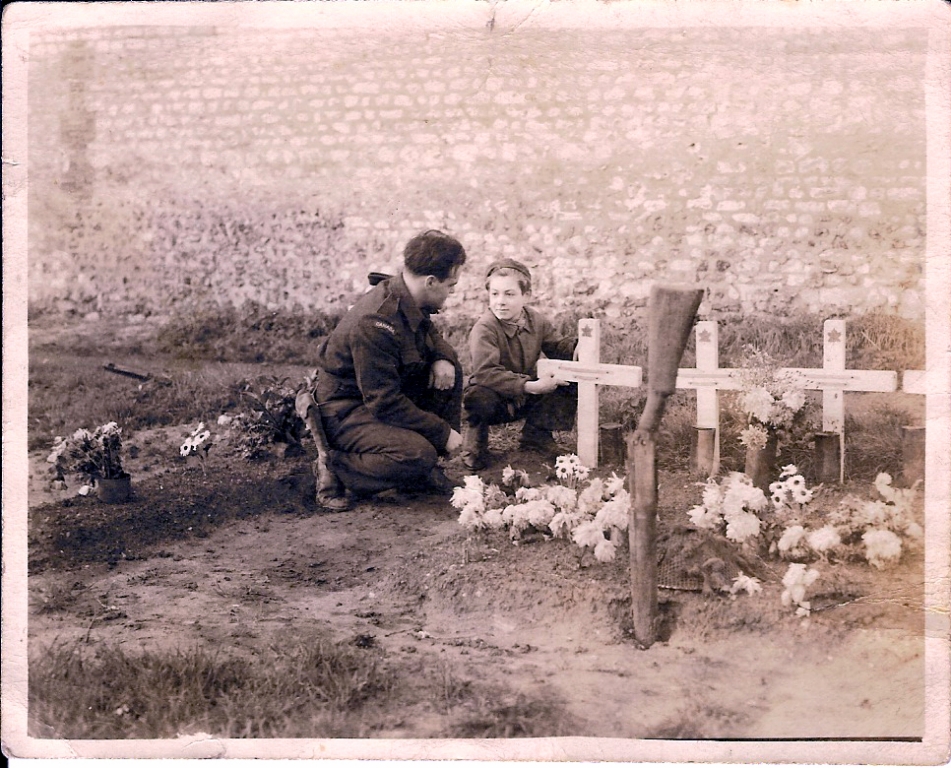 This photograph, taken shortly after Igoville, shows a local boy pointing out Ted Marston's grave to his brother Bob (from another unit). They are all Argyll graves and Pte Bearss' is one of them. As always, Argylls were buried reverently and, indeed, lovingly by their extraordinary padre, HCapt Charlie Maclean, who surely must have been the image of a perfect wartime padre in the mind of God.