The Argyll Poppy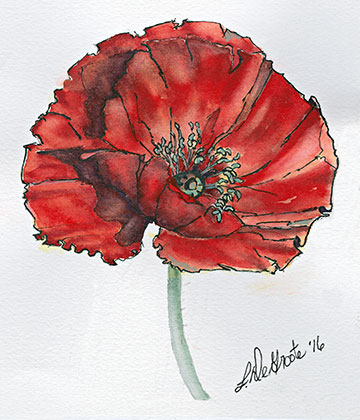 The Argyll Poppy, painted by Lorraine M. DeGroote, will commemorate the life and service of fallen Argylls. Each poppy donated will move to the Argyll Field of Remembrance inscribed according to the donor's wishes.
My Argyll Poppy
You may know whose life you wish to remember. If you do not, you may find an Argyll by searching the databases contained here. These databases contain the names of all those who were lost in service during World War I and World War II, and, additionally Cpl Cirillo and (TODO) other name. You may also donate a poppy in recognition of an individual not on the Roll of Honour but who also served.
Each flag above represents one of these poppies. Click on the links below if you would like to change what displays to the public.
The Argyll Regimental Foundation (ARF) Capital Campaign, 2016 – 2019
This campaign is the third in the history of the ARF. The inaugural campaign of 1980 raised over $200,000; the second, in 2002-04, raised almost $1,000,000. Under the leadership of the Campaign Chairman, Honorary Colonel Ron Foxcroft, ARF hopes to double its current endowment to over $1,000,000. The campaign was officially launched in February 2016 and the campaign will run until 26 May 2019, a total of 40 months. The campaign's official end will coincide with the 100th anniversary of the demobilization of its First World War battalion, the 19th on 26 May 1919.
Donate and remember.
Albainn Gu Brath
More information about the campaign