By LCol (ret) Tom Compton, CD, BA
Director, Argyll Regimental Museum & Archives
Bill Doran was born in Belfast, Ireland, in April 1895. The family owned a handsome home in Bangor, Ireland, but nevertheless moved to Canada in 1908. Bill Doran worked as a clerk/draftsman prior to the war and initially signed up with the Queen's Own Rifles, later to be transferred to the 19th Battalion on 11 November 1914. Shortly after landing in France, he was promoted to Corporal, but during the battle of the Somme he received a gunshot wound to the face and spent a couple of months in hospital. Promotion to Sergeant in August 1916 proved unlucky again as he received another wound from shell fragments to his wrists and left thigh. Recovery in hospital followed, and he was subsequently transferred to the 1st Ontario Reserve Bn. Possibly because of his wounds, he was transferred back to Canada, where he spent the rest of the war in a training depot preparing troops for overseas duty. While there, he was commissioned as a Lieutenant and finished the war as a Captain.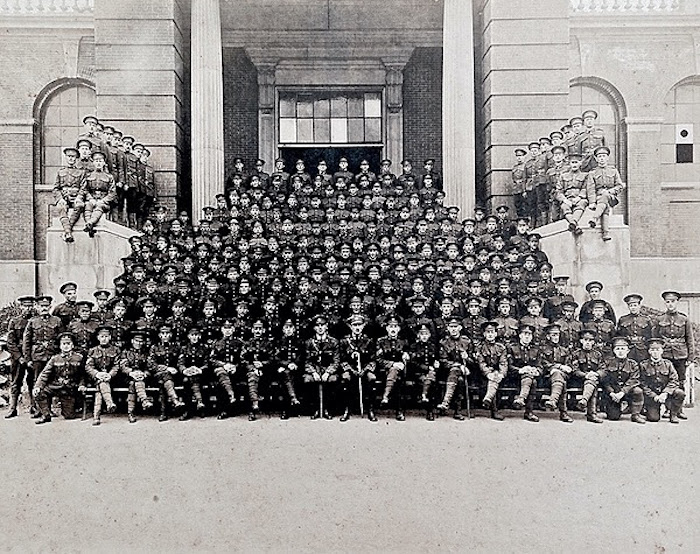 Lt F.W. Doran is seated front and centre, flanked by another lieutenant and a sergeant. This is A Coy Detachment, Draft No. 44, which he likely trained in Canada before they proceeded overseas on 2 May 1918.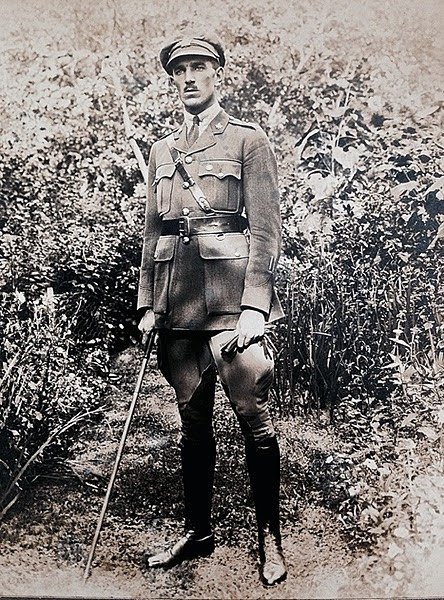 Lt F.W. Doran in his well-tailored uniform with two wound stripes visible on his left arm.


After the war, Bill Doran worked with the T. Eaton Company in Toronto, starting in 1921 as a salesman. He married Audrey Margaret Young in 1925. At the time of his retirement from Eaton's in 1960, he was assistant superintendent of stores. He was an avid promoter of junior golf and curling at the York Downs Golf Club and the Toronto Cricket, Skating and Curling Club. The family notes that he served as a Major with the Queen's Own Rifles during the Second World War but likely as a part-time reservist as he would have been too old to go overseas again.
Bill and Audrey had three children: a daughter who died at birth in 1926, son Terrance, who later became a doctor, and daughter Molly. Bill was well known as a kindly father as well as grandfather to Mary Johnson, who is pictured with him below. It is Mary who has donated the pictures of her grandfather to the Archives and to whom we are eternally grateful. Bill Doran passed away suddenly from a heart attack on 17 January 1970 while on the curling rink doing what he enjoyed. He is buried in Mount Pleasant Cemetery, Toronto.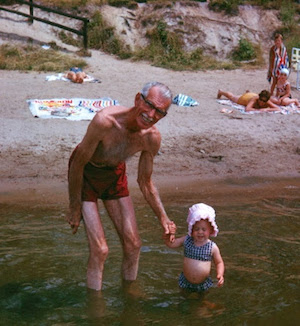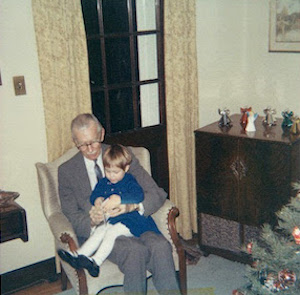 F.W. Doran pictured with his grandaughter at the beach and at home at Christmas.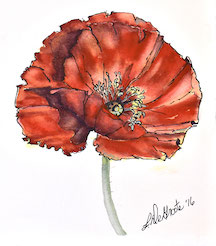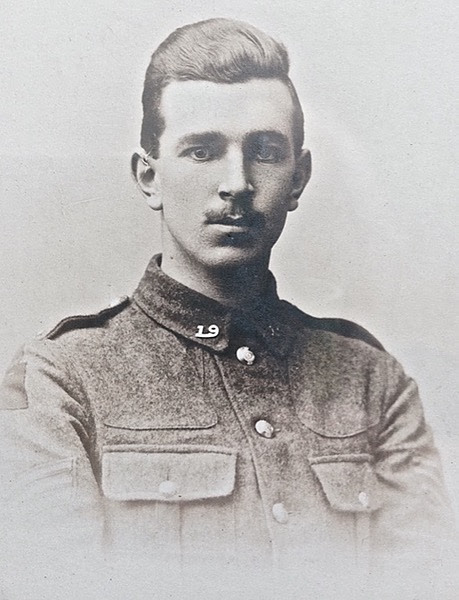 Newly minted Cpl F.W. Doran.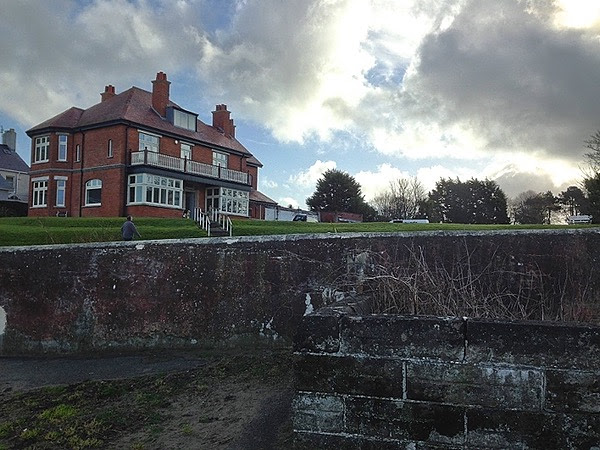 Red Hall, Ballyholme, Bangor, Ireland, the family home of the Dorans. It remains in the family to this day.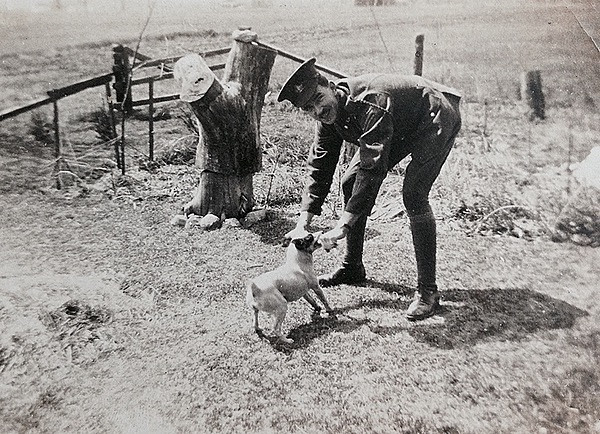 Sgt Doran playing with a dog.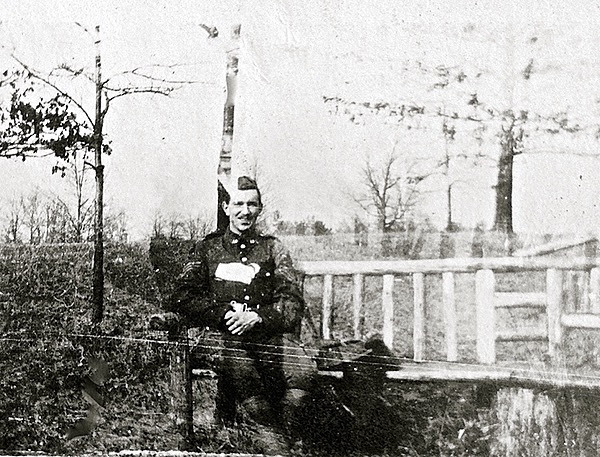 Sgt Doran sitting on a bench.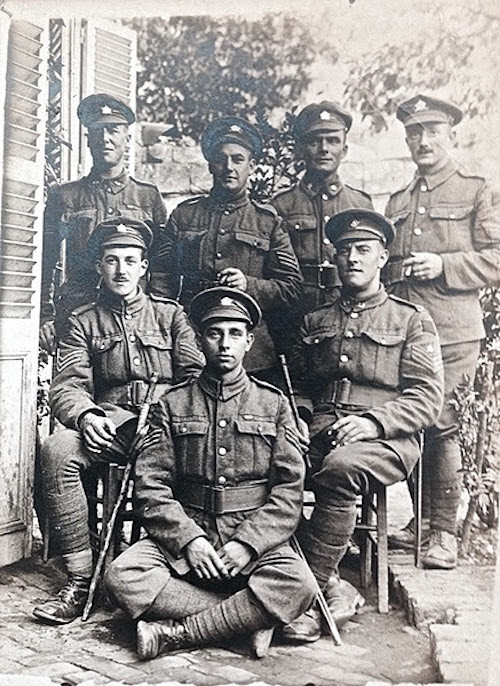 This image comes from the personal effects of Sgt F.W. Doran. A tough-looking bunch with cigars in hand, these peers of Doran are 19th Battalion Senior NCOs in France, likely 1917. Standing at rear, left to right: CQMS W. Robinson, MM; Sgt J. Seymour, MSM; unknown; unknown. Seated in chairs, left to right: Sgt G.A. Annand, MM; CQMS G. Bryan. Seated cross-legged: Sgt R. MacKenzie, MM.