Introduction
In the days following the grim battle of Moerbrugge, the 1st Battalion rested and received 81 "much needed" reinforcements on the 12th, while LCol Dave Stewart reorganized F echelon. The respite from battle was short. The next day, the unit moved to Moerkerke, a village northeast of Bruges on the Leopold Canal, and attacked on the 14th.
Some years ago, Lt Alan Earp, Pioneer Platoon (November 1944 to mid-April 1945) and then Honorary Colonel, told a handful of senior Argyll officers that he considered "any day without a casualty report a good day." The 14th of September would not be a good day.
I learned about Lloyd Johnston early on in the Black yesterdays project. Capt Claude Bissell spoke forcefully about him to me during our interview in the summer of 1984. Maj Bill Whiteside and Maj Bob Paterson echoed Bissell's observations and emphasized Johnston's role with the Scout Platoon at Hill 195. Cpl Gord Boulton, Scout Platoon, expressed a life-long respect and admiration for Johnston in a Toast to the Regiment at an Officers' Mess dinner. Gord enjoined me to find Johnston's family and to let them know how significantly he had affected the lives of the Scouts. Happily, I found the family a few years ago, thus fulfilling my promise to Gord.
Robert L. Fraser
Regimental Historian

Death in battle is different, Sam Chapman thought:

"He is cut down in an instant with all his future a page now to remain forever blank.
There is an end but no conclusion."
– Capt Sam Chapman, C and D Coys

"one of the very finest fighting officers the unit ever possessed"
"Shells were coming down heavily on a cross-roads and we took cover. It was a terrible concentration." During a lull in the firing, Mac [Smith] went out to Lloyd Johnston's body. He came back and said, "Don't go out, it's in an awful mess." Lt Claude Bissell, the IO, never forgot Lloyd Johnston nor his death. In his 1946 history of the 1st Battalion, Maj Hugh Maclean wrote, he was "decidedly one of the very finest fighting officers the unit ever possessed … His death was a severe loss … his enthusiasm and inspiring leadership were literally irreplaceable."
Born on a farm in Grafton, Ont., on 20 Aug. 1908 and of "Scottish" origin, Lloyd Johnston was the eldest of a large farming family. He had, he reckoned, 12 years of farming experience; he graduated from Cobourg Collegiate Institute and then Queen's University with a BSc. He married Catherine Elizabeth Dinning (1917– 2001) on 5 Oct. 1940 in Sherbrooke, Que.; they lived in Hamilton, where he was chief chemist for CIL. Johnston joined the 2nd Bn Argylls on 28 April 1942, enlisting on 6 Oct. and lying about his age, giving 20 Aug. 1912 as his birth date rather than 20 Aug. 1908, to ensure his chances of getting overseas and into action. He was 5', 11", 168 lb, with grey eyes and brown hair. His hobby was stamp collecting.


"pepper-potting enthusiast"
After rigorous training, he joined the 1st Bn Argylls on 1 May 1943 at Camp Niagara along with three other new officers: Lts Bob Pogue, Mac Smith, and Frank Woods. Overseas, he completed the street-fighting course and quickly established an enviable reputation among officers and men alike. He took B Coy through its assault course in December 1943. He was "very capable and exacting" and was labelled B Coy's "pepper-potting enthusiast." LCol Dave Stewart gave him the newly formed Scout Platoon on 8 March 1944 because, as Stewart put it, "he suited the job." It was, as Lt Bob Pogue (Johnston's successor) recalled, "a terrible job" requiring a special type of soldier, one such as Lloyd Johnston.


"about the best officer in the C.A.O"
"A very handsome man with a devil-may-care attitude," Johnston excelled in action. At Bourguebus on 4 Aug. 1944, snipers concealed in hay stacks hindered the unit. Johnston "went out by himself and set fire to the hay stacks." Cpl Gord Boulton of the Scout Platoon praised him as "an unbelievable person, [a] fantastic individual" and "tough as nails, well built, proud." Sgt Rudy Horwood described him as "a man of tremendous physical condition, and he liked to run." For Lt Mac Smith (IO and then Adjt), he was "about the best officer in the C.A.O." and "has a platoon who can smell out Gestapo headquarters from any direction and who return laden with strange souvenirs like the occasional bottle of Cointreau, Benedictine or Triple Sec."
Johnston and the Scouts distinguished themselves at Hill 195. Johnston and Stewart took the Scouts up the slope, leaving picquets to mark the way for the four companies, led by Stewart, infiltrating the hitherto unassailable German lines in the dead of night on 10 to 11 Aug. 1944. The Scouts and A Coy provided a diversionary attack north of the bridge at Moerbrugge from 8 to 10 Sept. Lloyd Johnston was killed during "heavy fire" by a shell at Moerkerke on 14 Sept.; the Argylls withdrew and, later that night, Capt Mac Smith recovered Johnston's "poor shattered body from where it lay at the main cross-roads on which the Germans were still pouring shells and mortar bombs."


"all shell-shocked at his death"
Because of a premonition that day, Johnston had asked his platoon to get "all this stuff [in his battle-dress pocket] to my wife." The Scouts – "he did everything for us" – "were all shell-shocked at his death." LCol Dave Stewart was "really shaken up." Lt Claude Bissell observed that the CO "was almost knocked out by his death." Maj Bob Paterson, OC Coy, thought Johnston was "a hell of an officer." For Maclean, Johnston's "laconic street-smarts" were an integral part of the Argyll style. Bob Pogue, who took over the Scout Platoon, stated that the Scouts "adored Lloyd … he looked a little like Ronald Coleman [a Hollywood movie star]. Very handsome man devil-may-care – exactly what you think of a soldier … and it was a tough act to follow because the boys were all shell-shocked at this death … they felt their lucky symbol had been killed." He "used to amaze me," Lt Stan MacDougall of A Coy recalled; he "could do Scout work without even thinking about it."


"mother would never talk about her previous life"
Johnston had hopes for life after the war and had outlined the choices: farming, returning to his job at CIL, or staying in the army. None of it was to be. His wife was shattered by his death and found a new life; she remarried on 15 Sept. 1945 – a year and a day after Lloyd's death. She moved to Rochester, N.Y., with her new husband, and they had two daughters. Her eldest daughter remembers that when she was in her teens, her mother told her that she had been married before, but when she pressed for further details, her mother yielded nothing, and it never changed. A few years later, this daughter found a box of letters and memorabilia in the basement; they were Lloyd's. Again she pressed, but her mother would never talk about her previous life. The contents of the box were later lost to a flood.
Lloyd's family members in Ontario cherish his memory. Great-niece Rebecca Wilson writes that "the stories of my uncle live on thanks to my grandfather. My son is the spitting image of Uncle Lloyd." Her mother (and Lloyd's niece) have "been gathering what information I can about Uncle Lloyd." Her father was the youngest of five siblings; Lloyd was the eldest. "There were lots of stories, and he was quite a character, but "Dad [d. 2017] never talked about him." They came across Black yesterdays: the Argylls' war (1996), and it told them about Lloyd's remarkable time with the Argylls, and "for a while, [it] sparked something in him."


"deeply 'loved' and respected by all of us …"
In the fall of 2006, Cpl Boulton gave the Toast to the Regiment in the Officers' Mess. He spoke of the 1st Battalion and all who had served, but mainly of Lloyd Johnston and the Scout Platoon. Prior to the night, he had provided an image of the platoon in France when it was briefly out of the line. He wrote on the back: "Lt Johnston you should know was deeply 'loved' and respected by all of us … When Mac Smith called us to tell us he had been killed, we were first stunned and then all of us cried."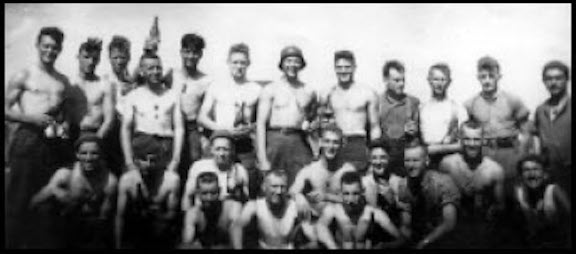 Scout Platoon – France, August 1944

Forty-eight years after Johnston's death, his memory remained enshrined. It was Cpl Boulton's fervent wish, expressed on that day in 2006, that the Regiment convey to Johnston's family and the Regimental family that on 14 Sept. 1944 they lost a good man, a beloved Argyll, and a warrior. RIP, Cpl Boulton, RIP.

In memory of Maj Rob Fead, CD – LCol Stephen Mangotich (Argyll Senate)
Note: Capt Johnston's poppy in the virtual Argyll Field of Remembrance is in the right grouping, bottom cluster, far right. The Argyll Regimental Foundation (ARF) commissioned Lorraine M. DeGroote to paint the Argyll Poppy for the Field of Remembrance.

Between 11 and 14 September, 3 Argylls were killed in action and 2 were wounded.

"a history bought by blood" – Capt Sam Chapman, C and D Coys

Robert L. Fraser
Regimental Historian