Introduction
The Argyll website is a natural destination for online wayfarers searching for a Regimental resting place. Quite regularly we receive queries from such folks about those who served. In January 2019, I received one such request from Elsbeth Hoyer-Vughts about Pte Donald MacKeracher, who was killed at Kapelsche Veer in January 1945. It was well known to me as was the cold, the misery, and the suffering of those who "fought," in what Lt Alan Earp (who did fight there) called "the senseless and hitherto obscure battle."
For a few years, I have been corresponding, on behalf of the Argyll Regimental Foundation, with the Pheasant Foundation (the liberation of this part of the Netherlands was called Operant Pheasant). This foundation recently erected new plaques to the units who served and sacrificed there. During that process, I renewed my acquaintance with the 14 Argylls who died there and the one, Pte Tommy Nangle, who later succumbed to his wounds in the United Kingdom. Elsbeth's timely missive led me specifically to Pte Donald MacKeracher and his story. I am grateful to her and to Janice Corrigan (Church), Donald's niece, for their assistance. Pte Bob Mason, MM, provided critical detail about 15 Platoon's final assault at Kapelsche Veer and, as always, Col Alan Earp, OC [at Kapelsche Veer, he was Lt Earp of the Argylls' Pioneer Platoon] is supportive, helpful, and unfailingly insightful.


Robert L. Fraser
Regimental Historian

Death in battle is different, Sam Chapman thought:

"He is cut down in an instant with all his future a page now to remain forever blank.
There is an end but no conclusion."
– Capt Sam Chapman, C and D Coys

---
Pte Donald Douglas MacKeracher (B 145875) (1922–45)
KIA 30 January 1945
Over the course of the last two centuries, the MacKerachers were a family on the move: from Scotland to Deux Montagnes in Lower Canada in the 1830s, to Glengarry County in Ontario in the 1880s, and then from Toronto to Saskatchewan in 1905, the year it became a province.


"a kind and considerate young man"
Donald Douglas MacKeracher was born on 23 September 1922 on his family's farm in Tyner, Saskatchewan, the second child of Colin Alan Russell MacKeracher (1886-1958) and Rose Lillian Sadler (1901-76). They had five children: Willard, Norman, Joyce, Robert, and Colin. The family moved to Plato, Saskatchewan, in 1927. Don's family remembers him as "a kind and considerate young man," who enjoyed caring for the animals on the farm." He "loved going to the Rodeos" in the summer and liked "fishing with his brothers." He left Kildare School in 1938 after completing grade 10 to work on the farm and for neighbour Charlie Miller as well. Don was "a hard working farm hand but … money was scarce." The 1920s and the 1930s were especially hard in Saskatchewan.
Don, Willard, and Norman hoped to find better jobs in Winnipeg, where relatives lived. About 1940, their parents drove them there. Only Norman found work; the other two jumped a train and headed east, finding jobs in Creighton, Ontario, as miners at the International Nickel Company's Creighton Mine. Willard subsequently joined the RCAF ("clean sheets") and Don enlisted in North Bay on 9 April 1943; he was 5', 11½", 154 lb, with brown hair and blue eyes. He transferred from the Royal Canadian Artillery (Anti-Tank) "to Infantry (Other)" on 19 June 1943 and underwent infantry training at Camp Borden. There was one last visit home before, having completed training on 23 August; he proceeded overseas the next day to #4 Canadian Infantry Reinforcement Unit (CIRU). He arrived in the United Kingdom on 1 September.


"of blisters and blasphemy"
Pte MacKeracher joined the Argylls on 1 October 1943. That day, the battalion "began its trek towards Riddlesworth Camp." It was a 15-mile march and the rifle companies of the Argylls did it "the hard way." They were led by their new commanding officer, Lt-Col J. Dave Stewart, who "marched with the men." A Regimental piper led each company and, after 6½ hours "of blisters and blasphemy," they arrived. It was, Pte John Booth of the Mortar Platoon recalled, "the dirtiest camp we ever moved into and it took plenty of work to make it fit to live in." That night, the unit's war diarist noted, "142 reinforcements" arrived "at 2000 hours." This group included MacKeracher and the battalion's first black Argyll. The next day MacKeracher was taken on strength and posted to C Coy. He was on his first battalion parade at 1330 hours when Lt-Col Stewart addressed the unit, stressed "the importance of discipline, the necessity for physical fitness, and ended by saying that he expected this to be the finest regiment in the Canadian army." For John Booth, "Col. Stewart made a place for himself in the hearts of his men." He also gave them "the remainder of the day off."


"Femininity was present in quality and quantity"
Within a week, Pte MacKeracher was on training schemes in the field at the brigade level. As one of his comrades in C Coy wrote home in October, "training here is plenty tough." Late in the month, there were divisional exercises in "terrible weather." The emphasis was on conditioning and training at every level. On 1 November, the Argylls moved to new quarters near Uckfield in Sussex. Again, there was more training at an ever-increasing tempo. C Coy held a dance on 12 November, a gathering much lauded by the battalion's war diarist. The Argylls' Pipes & Drums led the grand march and music was provided by the band of the Lincoln & Welland Regiment. Several features caught the diarist's percipient eye: "Femininity was present in quality and quantity, beer inexpensive and reasonably plentiful, the food appetizing and in abundance."
Over the Christmas season, Donald had two 7-day leaves. The months passed quickly, with the introduction of new weapons (PIATs and Sten guns), a spate of rigorous training in the Scottish Highlands (in February 1944), more time on the ranges (C Coy topped all other companies in February), more training still, and reviews by dignitaries, including King George VI, Generals Montgomery and Eisenhower, various Canadian brass, and the Canadian prime minister, William Lyon MacKenzie King, who was booed by the troops. Anticipation grew after D-Day as the Argylls awaited their turn to reach the beach head and pondered what lay ahead afterwards. Pte MacKeracher embarked from the United Kingdom on 19 July with the Argyll advance party; he disembarked two days later in France. Another phase in his war – battle – was about to begin.


"all hell broke loose"
The hardships of training bore no resemblance to the reality of fighting. In August 1944, as a rifleman in 15 Platoon, C Coy, Don fought at Bourgeubus, Tilly-la-Campagne, Hill 195, and St-Lambert. CSM Mitchell's (C Coy) private diary (deliberately written in red ink) records in terse fashion the effect on his company of August's casualties (killed, wounded, and battle fatigued), continuous fighting, heavy shelling, mortars, snipers, heat, dust, flies, and dysentery. C Coy was sent to St-Lambert on the 19th to reinforce B Coy. The "road," Pte Art Bridge of C Coy, recalled, "was full of wrecked and abandoned vehicles." On the 20th, Bridge wrote, "shortly after daybreak [on the 20th], all hell broke loose." "There was shooting from everywhere, as this was the [start] of a desperate German charge to get through St. Lambert and out of the pocket." The Germans "continued to attack for what seemed like hours," stopped only by the "well sited" South Alberta Regiment tanks that "prevent[ed] them from overwhelming us."


"It was just … horrible"
In the aftermath, Mitchell described the panorama before C Coy: "Such utter desolation … Dead Germans cover the streets – ghastly sights." As C Coy moved out, the unfolding scene was one out of hell. Capt Bob Paterson, second in command of C Coy was:
"stunned by the magnitude of the thing, the magnitude of the dead and the horses and broken up wagons and debris scattered all over. And the smell, we were all half sick. It was just … horrible. I called it in the history [Paterson's history of the 10th Brigade] a charnel house."
By the end of August, B and C Coys had been so decimated by casualties that Lt-Col Stewart amalgamated them into one sadly under-strength company of about 70. In one month of battle, the company had been all but obliterated; there were few C Coy originals left (those who landed in July) at the end of August – Pte Don MacKeracher was one of them.


"heavily shelled and machine-gunned"
On 27 August, the battalion "form[ed] up" in the Igoville area as the 4th Division pushed towards the Seine River. The Argylls were "heavily shelled and machine-gunned from the high ground to the north, suffering some casualties." B and C Coys led the attack. It "went in at 1500 hours … Very heavy opposition was encountered, but the objective was successfully taken and consolidated by 1800 hours." The unit's war diarist recorded that the "Battalion suffered 75 casualties in this action." During it, MacKeracher was wounded. The next day he was admitted to 108 British General Hospital and remained there for almost a month; he was discharged on 25 September. MacKeracher returned to the unit on 7 November 1944 in Steenbergen; he was one of 10 officers and 120 other ranks who arrived at noon that day. Intelligence Officer Claude Bissell felt they "didn't have any what is called battle wariness." MacKeracher was the exception; he had plenty of it. The battalion took him back on strength on the 8th and he returned to C Coy.


"benighted, god-forsaken dyke"
During the lull in fighting over November and December, the Argyll companies were strewn along the Maas River. Pte MacKeracher took an NCO's course from 26 December 1944 to 20 January 1945. He returned in time for the battle at Kapelsche Veer. C Coy suffered heavily on that "benighted, god-forsaken dyke." 15 Platoon attacked a house, the last stronghold in the early hours of the 29th.


"was killed approximately 50 feet from where they [Pte Mason and Lt Norm Perkins] were"
The third attack went in at "last light" on the 30th. At a distance of less than 100 feet from the Germans, "in a nightmare of close-in hide and seek, bursting grenades … and machine gun fire," they fought in "the desperation of winter warfare." Only 3 of about 27 Argylls in 15 Platoon reached their objective at the top of the hill. Don MacKeracher was one of them; he passed the other two and "was killed approximately 50 feet from where they [Pte Mason and Lt Norm Perkins] were." It was "bitterly cold" and Perkins "froze his feet up to his knees." Mason "kept passing grenades to Perkins, who in turn kept throwing them to a house [Raspberry] …" Pte Mason recalls that "it was Cleator [Lt Reg Cleator of 13 Platoon] who took a case with a red cross on it and a helmet and brought Don's body back down the dyke."
The 10th Canadian Infantry Brigade suffered heavily at Kapelsche Veer. Padre Charlie Maclean recalled that the Lincoln and Welland Regiment had "a lot of casualties. We had a few and we buried them all in a mass grave." As he remembered "about three or four chaplains did it together." There Pte Donald MacKeracher found his temporary resting place as a piper played the Argylls' wartime lament, "Flowers of the Forest."


"would have been proud to know him later on"
Pte Robert Mason, MM, was one of the three Argylls who made it to the top of the hill. Bob was also a Saskatchewan lad and he spent the cold night of the 29th talking with Don "in the dark." Seventy-five years later, Bob still remembers him as "a fine-looking young guy." I "would have been proud," Bob told his daughter-in-law in 2019, "to know him later on." "In battle," Capt Claude Bissell wrote, "death became a statistic noted with sad resignation. The dead then joined a shadowy company that grew in numbers each day." Pte MacKeracher joined that company. He left little in his personal effects: a watch, a mechanical "Victory" pencil, souvenir coins, a key, his birth certificate, three rolls of film, Argyll shoulder flashes, Glengarry and cap badge, two knives, and some photos.


"she knew it was bad news"
The life-shattering telegrams bearing the news of Pte MacKeracher's fate arrived in Saskatchewan. Janice Corrigan (Joyce MacKeracher's daughter) recalled:
"Grandma told me the story that she remembers the telegraph man driving up to the farmhouse with the telegram reporting Donald as Killed in Action. She knew it wasn't a social visit … she knew it was bad news. No one looked forward to the Telegraph Man's visit."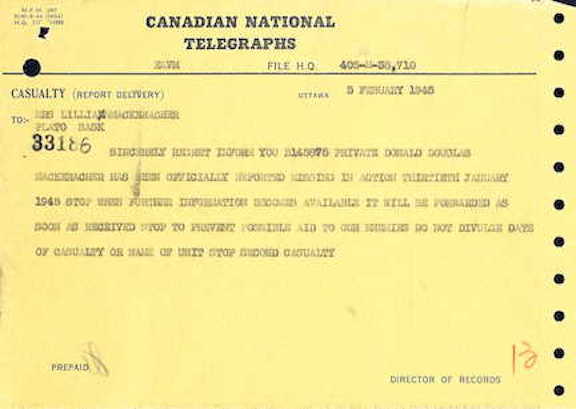 Telegram delivered to Mrs Lillian MacKeracker, 5 February 1945, reporting her son missing in action.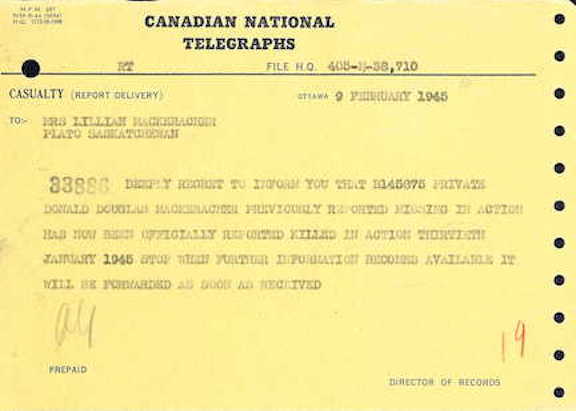 Telegram delivered 9 February 1945, reporting Pte MacKeracher killed in action.

Joyce's son, Jim Church, contacted the Regiment in June 2001. He was gathering more information on Pte MacKeracher for a forthcoming family reunion in August that year and Don's memory would be part of it. On 4 August 2004, a lake in northern Saskatchewan was named after him. To this day, his family gives "thanks" for his life and his sacrifice of it. In 2019 Janice wrote:
"Rest In Peace Donald Douglas MacKeracher. Thanks for giving of your life so that we may live in freedom today."
The family remembered the son, the brother, and the uncle never known.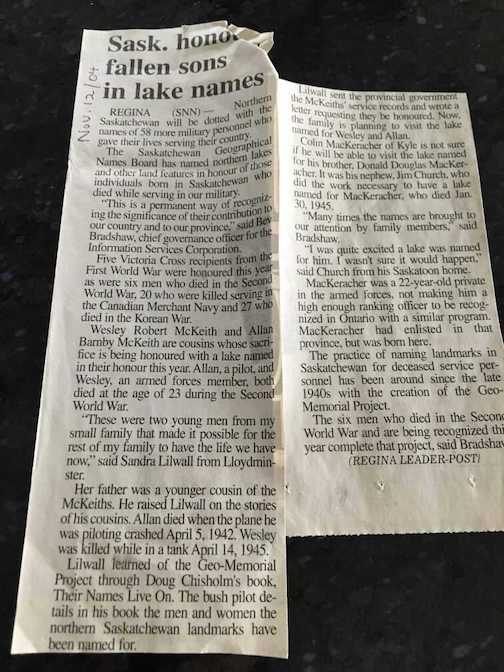 Newspaper article, 12 November 2004, about a lake in northern Saskatchewan being named after Donald Douglas MacKeracher.

Argylls who served with him also looked back and, in the post-war years, Bob Mason wrote a poem about Kapelsche Veer, "The Souvenir." In it, he reflects on his decision, after the battle, to forego picking up a "blood-soaked" lifebuoy as a souvenir:
Sometimes in fearful dreams appear
Dim shadows on a ruined slope
And moonlight, hesitant to show
The shattered spectacle below
So desolate of hope!

And often, when I wake in fear,
(Although the war is far behind)
I see the frozen forms of men
Lie strewn along the dikes again …
Do I need something to remind?

Remembering Kapelsche Veer
So often when I stop and stare
That souvenir appears somehow …
And thinking back about it now
I'm glad I left it there.

Pte MacKeracher, or Don as Bob Mason called him, was one of the "dim shadows" and the "men [who] lie strewn."


"to that loyal heart you're forever nineteen"
But there is more, a romantic element in the short life of this young Argyll warrior whose life played out far distant from a Saskatchewan farm or a northern Ontario mine. And he found it in the cold few months of relative peace in a liberated land.
In 1976, the Scottish folk artist Eric Bogle penned a memorable tune, a lament for the fallen in the Great War. Its words touch hauntingly, evocatively, and appropriately on young Don's experience:
"and did you leave a wife or a sweetheart behind
in some loyal heart is your memory enshrined
and though you died back in 1916
to that loyal heart you're forever nineteen"

Riet Laurijsen enshrined Don MacKeracher's memory in her loyal heart for all of her adult life, and her young lad from Saskatchewan remained forever 22. While in the Netherlands from November 1944 to January 1945, the Argyll companies were spread along the Maas. There Pte MacKeracher met Riet Laurijsen (1925-2007), a 20-year-old Dutch woman, and spent a five-day leave with her family at their home in Kaatsheuvel.


"It was her first great love"
During the cold winter's brief lull in the fighting, this young Argyll Romeo and his young Dutch Juliet fell in love. "One night, he had to leave her for a tough fight. He told her he'd come back to her after the fight." Her daughter Elsbeth Hoyer-Vughts writes, "It was her first great love … My mother thought always Donald would come back after some time but Donald didn't." When Riet eventually learned of his fate, the knowledge of his death left her "very sad."


"always kept him in her heart"
Riet married in 1952 and had 3 daughters. Yet, she "always kept him in her heart." "My Mother didn't speak English," Elsbeth noted, but she "was convinced it was a 'Scottish' soldier. We vaguely had a last name which was our only hold." But "he was her first love" and she "always" talked about him – "kind, polite, and good looking." When Riet died in 2007, they played "Scottish music" at her service in Pte MacKeracher's memory.


"She always wanted to put flowers on his grave"
Elsbeth began her search for Pte MacKeracher about 30 years ago. Her mother told her: "She told me he was from Scotland because he did wear the Scottish cap. But Donald is a Scottish Canadian and that is why we could not find him. I wish that my mother, who died in 2007, could hear the news. She always wanted to put flowers on his grave."


'this brave soldier who gave his live for our freedom"
Elsbeth works with the Pheasant Foundation, which keeps alive the memory of the Canadians who died at Kapelsche Veer – they never forget – and recently refurbished the monument there. She made contact with Donald's family and with his other family, his Regiment. On 24 December 2018, Elsbeth put a candle on Don's grave. "A few times a year I go to the cemetery and visit Donald's grave to pay respect to this brave soldier who gave his life for our freedom" and who was also her mother's first love.
His memory remains!

On 30 January 1945, 8 Argylls were killed in action and 8 wounded.
"a history bought by blood" – Capt Sam Chapman, C and D Coys
In memory of Donald and Riet – an Argyll
Note: Pte MacKeracher's poppy will be mounted in the virtual Argyll Field of Remembrance in the near future. The Argyll Regimental Foundation (ARF) commissioned Lorraine M. DeGroote to paint the Argyll Poppy (top) for the Field of Remembrance.
Robert L. Fraser
Regimental Historian