Introduction
I learned of Tommy Page from Hugh Maclean's 1945 history (published 1953) of the 1st Battalion. Maj Bob Paterson, Hugh's brother-in-law, urged (actually, insisted is closer to the mark) that I interview Maj Maclean. I did so in 1986 and it was memorable. Even more so was his remarkable Toast to the Regiment at the Officers' Mess dinner that night; it remains without peer.
When we began these postings in August 2019, I turned again and again to Maclean's "Green" book. He mentioned few of the fallen by name in his retrospective of the period from July to November 1944, but Tommy Page was one of them and that resonated with me.
To date, I have not found L/Sgt Page's family or an image of him (and I thank LCol Gary Sexton for his efforts in aiding that cause). A man whom Hugh Maclean thought "none would forget" is surely a man worth remembering!
Robert L. Fraser
Regimental Historian
"He is cut down in an instant with all his future a page now to remain forever blank.
There is an end but no conclusion."
– Capt Sam Chapman, C and D Coys
"None would forget … Sgt. Page of 'A' Company"
In his post-war 1945 account of the fighting from July to November 1944, Maj Hugh Maclean recognized the fallen. He named but a few and Tommy Page was one of them: "Everyone had done his share," Maclean wrote, "and many had given their lives. None would forget … Sgt. Page of 'A' Company… They were all brave men."
Page's mother, Edith Matilda McKinney, was born in Richmond, Surrey, about 1901. In 1917, she had a daughter there; the father is unknown. In January 1919, she married Pte John "Jack" Osborne Epplett, a Canadian soldier who had been discharged as a permanent invalid from multiple gassings and trench fever. A Brantford native, he worked as a telephone inspector before the war. The couple (and her daughter) arrived back in Canada in May 1921, residing in Brantford, where another child was born in 1921. Thomas Page was born in Brantford on 5 July 1922, presumably the son of Edith and Jack Epplett.
Edith and Jack Epplett divorced by an act of Parliament on 30 May 1930; on 16 June 1930, she married Hector Alexander Page (1893-1952) at Beamsville; Page, a "motorman," was 37 and another First War veteran; she was 29. Tommy Page was raised in Beamsville; he left school in 1938 after grade 10, preferring "work to school." Before enlistment, he took an "active part in a Young People's Society" of the United Church and was a boy scout for five years. He played "most sports and is," the personnel officer noted, "interested particularly in rugby, baseball, and hockey." While in school, Page delivered newspapers. He worked on a fruit farm before moving to Hamilton, where he was a weaver at Greening Wire Company. After the war, he hoped to become a machinist.
"very moderate habits"
Possessed of "very moderate habits" and deemed "emotionally stable," Page enlisted on 8 June 1940, shortly after the Argylls mobilized. He had hazel eyes and "fair" hair, and was 5', 7" and about 150 lb. His military record was spotless, save for one minor offence: he went AWOL in Jamaica once for almost 7 hours. While there, he contracted dengue fever and was hospitalized for 8 days in 1942; malaria hospitalized him for 28 days in September/October 1942; and flu required another 3 days in hospital in December 1942. Page was an officer's batman for three months in 1940. Promotion came steadily in "A" Coy: lance corporal on 19 January 1942; acting corporal on 15 March 1943; corporal on 6 June 1943; and lance sergeant on 1 August 1943.
"Excellent N.C.O. material"
When the 1st Battalion returned from Jamaica in May 1943, those eligible for overseas service underwent a second round of testing and interviews. A personnel officer described Page as: "A pleasant looking curly headed young man … well above average intelligence and seems to possess a keen, alert mind … This young N.C.O. impresses one as a little naive but also appears very keen and should be a very efficient N.C.O … Excellent N.C.O. material."
"there wasn't enough of him left to [bury]"
The unit went overseas in late July 1943. From August 1943 to June 1944, the Argylls trained at various locations in the United Kingdom to ready themselves for battle, including collective training at all levels and individual courses. Page attended a weapons course in London from 6 to 12 February 1944. Battle came soon enough. By 25 July, the battalion had sustained its first casualties in France. The action intensified in the first week of August amidst the heat, the dust, and the deprivations. Casualties mounted and the attack on Tilley-La-Campagne on the 5th took a high toll.
Late on 9 August 1944, "A" and "D" Coys attacked and captured Cintheaux, a small town about 15 miles south of Caen. "B" and "C" moved on to Haut-Mesnil, "a scattering of buildings about a huge quarry." In his diary, Lance Corporal Harry Ruch of "A" Coy recorded that his company then moved up: 9 Platoon "headed the march … and as we neared the Quarry, Jerry started to shell the road, two landing in Nine Pltn, killing Sgt. Page and seriously wounding Mr. McDougall the Officer." Lt Norm Donaldson, also of "A" Coy, was wounded on the 10th. He wrote to his wife that "Stan MacDougall was hit in the chest with a shell-burst that killed his sergt [Page]. He looked in bad shape to me." Lt MacDougall's memory of the day never faded: "Tommy Page had two carriers of Piat bombs. And the shell that got him, hit right beside him. The Piats all went, and there wasn't enough of him left to [bury]." In the 1980s, Pte Jim Doyle, Scout Platoon, recalled the ghastly sight of Page's body "in a ditch." The memory "just sort of shakes me every so often," he said.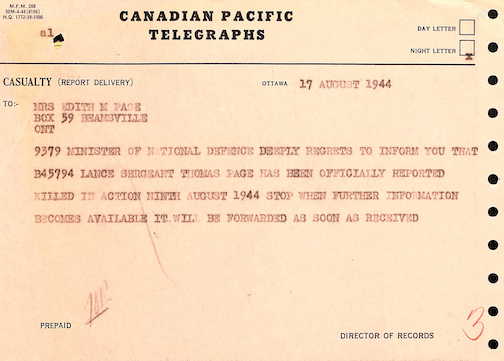 Telegram to Mrs Edith M. Page, 17 Aug. 1944.


"NOW THAT YOUR DUTY TO YOUR COUNTRY IS DONE, REST IN PEACE MY DEAR SON"
Edith Page received the dreaded telegram on 17 August 1944; notice appeared 7 days later in a Grimsby paper. She chose his gravestone epitaph: "NOW THAT YOUR DUTY TO YOUR COUNTRY IS DONE, REST IN PEACE MY DEAR SON." He left his parents, a brother, two sisters, and a few personal effects, including a "Sports Sweater," two "photograph albums," "Letters and Telegrams," a "Note Book," and "Snapshots."


"a history bought by blood" – Capt Sam Chapman, C and D Coys

Robert L. Fraser
Regimental Historian

"I honour your sacrifice, Sgt Page" – David Sweet, MP
Note: L/Sgt Page's poppy will be mounted in the Argyll Field of Remembrance in the near future.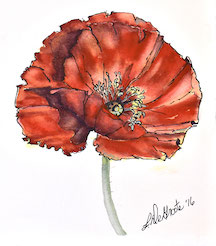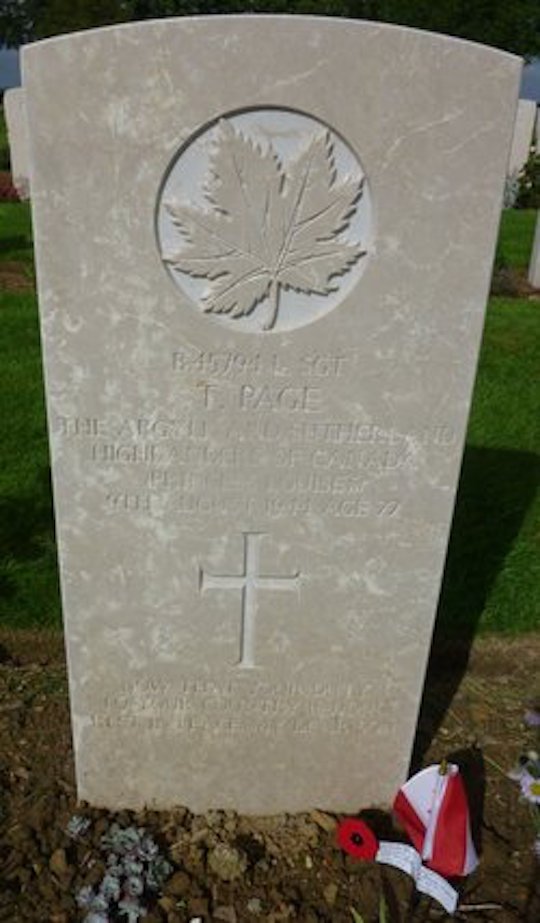 L/Sgt Page's gravestone in Bretteville-sur-Laize Canadian War Cemetery.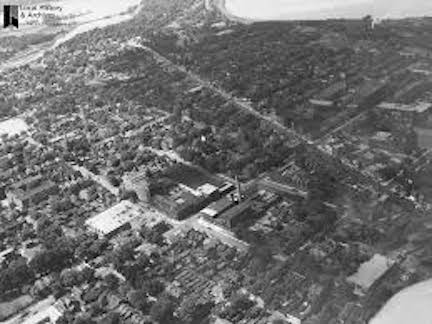 Greening Wire Company, Hamilton (large building at centre).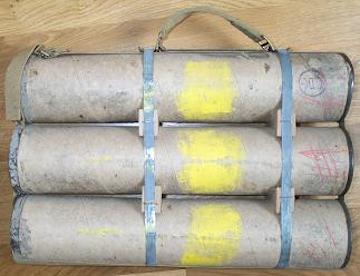 PIAT carrier.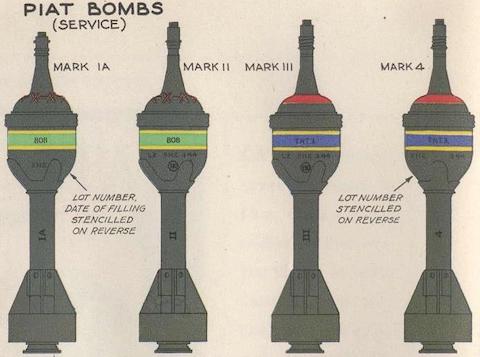 PIAT bombs.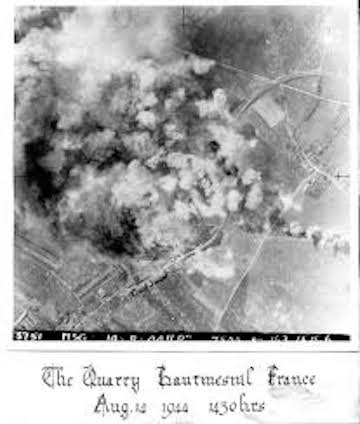 The quarry, Hautmesnil, France: 14 Aug. 1944, 1430 hours.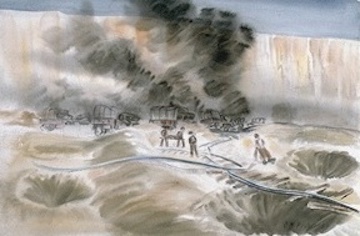 Quarry, Hautmesnil, courtesy of War Museum.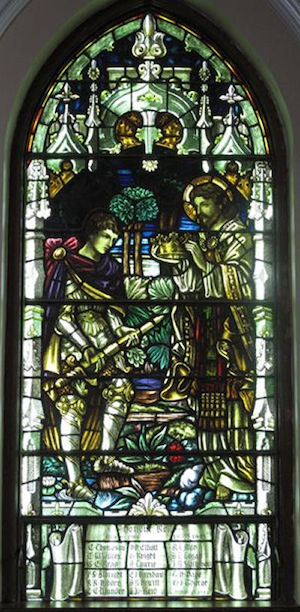 Stained-glass window in memory of Tommy Page in a Beamsville church.