Death in battle is different, Sam Chapman thought:

"He is cut down in an instant with all his future a page now to remain forever blank.
There is an end but no conclusion."
– Capt Sam Chapman, C and D Coys
Introduction
I knew Murray Ryan only as an Argyll who died on an "uneventful" day. I found out more about him when J. Murray Souter purchased an Argyll Poppy. Murray cast about and settled on a young man whose first name was "Murray." I was struck by the comments made about Pte Ryan by army examiners and interviewers, to say nothing of the medical officer. I knew, respected, and liked young Ryan's company commander, Maj Don "Pappy" Coons, who interceded on Ryan's behalf. Immaturity is not necessarily a universal attribute of youth across time, culture, and place, but it is not uncommon, and Murray Ryan was young. The notion that he was "spoiled" drew my attention. Perhaps he was, but there is little spoiled about the working-class Hamilton neighbourhood in which he grew up or the small, rented house in which a family of seven plus one lived. Ryan desired action, and in the brief period from 2 to 18 August he got it.
I offer my gratitude to Ben Dyment, Archives Technician, Hamilton-Wentworth District School Board Educational Archives, for his help in filling in the details of Murray Ryan's education.
Robert L. Fraser
Regimental Historian
---
Pte Murray Edward Ryan (1922–44) (B 46359) 1st Bn Argylls
KIA 18 August 1944
"In good health and [with a] desire for action" – this report in early 1944 set the course for young Pte Ryan's life.
Born in Hamilton, Ontario, on 18 August 1922, Murray Edward Ryan was the youngest of the six children of Thomas Ryan (1881–1931) and Ethel Louise Smith (1883–1961). Thomas was born in Toronto and married Ethel Smith on 30 June 1904 in Hamilton. Approximately two years later, Thomas joined the 91st Canadian Highlanders, serving with them until his enlistment on 2 September 1915. In 1911, Thomas and Ethel lived at 85 Sherman Avenue North with their two daughters; Thomas was a "labourer" working 54 hours weekly. When he enlisted, he was 5', 4" with a "dark" complexion and brown hair; he had "tattoo marks both forearms." Ryan was an "engineer" and his family lived at 6 Rosemont; he assigned $20 of his monthly pay to Ethel.
Thomas Ryan joined the 86th Machine Gun Battalion raised by Lt-Col Walter Wilson Stewart (himself a 91st officer and an architect); indeed, Stewart signed Ryan's attestation paper. Ryan sailed with his unit on 19 May 1916 and disembarked in Liverpool on 29 May. After training, the 86th was broken up and its soldiers sent to new units. Ryan went to the 4th Canadian Machine Gun Company (later the 4th CMG Battalion). While he was in England and acting as a hut orderly, an altercation with a "drunk" soldier resulted in a dislocated clavicle and hospitalization. He also had an operation for an ingrown toenail and a brief hospitalization because of a "light attack of delirium tremens" ascribed to "chronic alcoholism" [it is the only mention of alcoholism in his medical record and may have referred to a single incident]. In France from 20 April 1917, Ryan suffered a severe bout of asthma that left him hospitalized until 12 November. Upon discharge, he was posted to a reinforcement unit rejoining the 4th in the field on 30 December. He received two weeks' leave in January 1918, overstayed it by two days, and forfeited three days' pay as a punishment. He remained with the 4th in the field until 6 May 1919. He returned to Canada, where he was discharged in Toronto on 16 June 1919. He went back to his family with disabilities: ongoing deterioration in the choroid of his left eye from the spring of 1918 and worsening hyperacidity.
The Ryan family lived for many years on Hamilton's Rosemont Avenue between Sherman Street and Gage Avenue North (running north and south) and Barton and Cannon streets (running east and west). In 1921, Hamilton's population was 114,151 and it was the 5th largest city in Canada. The birthplace of Hamilton's residents was: Canada 61.2% (with 58.9% from Ontario); Great Britain 28.9% (with 18.2% from England, 5.8% from Scotland, and 2.6% from Ireland); Europe 5.7%; and the United States 3.4%. The population was overwhelmingly Protestant with 16.7% Roman Catholic. According to the 1921 census, the Rosemont neighbourhood reflected the city as a whole: the "racial or tribal origin" [not the nationality] was: English 131, "Scotch" 43, Irish 34, Polish 11, "Negro" 8, German 5, French 4, Dutch 2, and "Canadian" 1. English was the predominant language; only 2 individuals spoke no English and only 2 spoke French. In terms of nationality itself, 5 were Americans, 1 English, 1 Scottish, and the rest "Canadian." As for occupation, the neighbourhood was working-class. The Ryans' 5-room rented house was tiny: 1,320 square feet, with 3 bedrooms and 1 bathroom for a family of 7 plus Ethel's father. Thomas worked as a "driver" and did "factory work"; he made $20 monthly.
Murray Ryan was born in Hamilton on 18 August 1922. His attestation paper gives 1921, but he almost certainly lied about his age. His school records and the documents filled in by his mother after his death give 1922. He had 3 brothers and 2 sisters; he was closest in age to his brother Ryan Russell (born in 1920). They attended Prince of Wales School together. By 1931, the family was living at 124 Gage Avenue North. Thomas worked at National Steel Car according to the city's directory. He died that year on 16 February from "influenza" with "broncho pneumonia" as the "contributory cause." His death certificate records him as being "retired." Marjorie Louise Elizabeth (1909–95) married in October 1931 and left the family home.
"Persuaded by friends"
Murray was raised by his widowed mother. His school records show that he completed grade 7 in 1937 and left school the following year, before finishing grade 8. His military records suggest that he left school in grade 9 at age 16 (no doubt part of his deception on enlisting). He worked for a year as a glass inspector at Dominion Glass, earning $18 weekly and then for 18 months as a "delivery boy" and "lab boy" at the Elliott Dental Lab on King Street East, earning $15.75 weekly. He also served eight months with the RHLI in 1940 before he was "persuaded by friends" to enlist.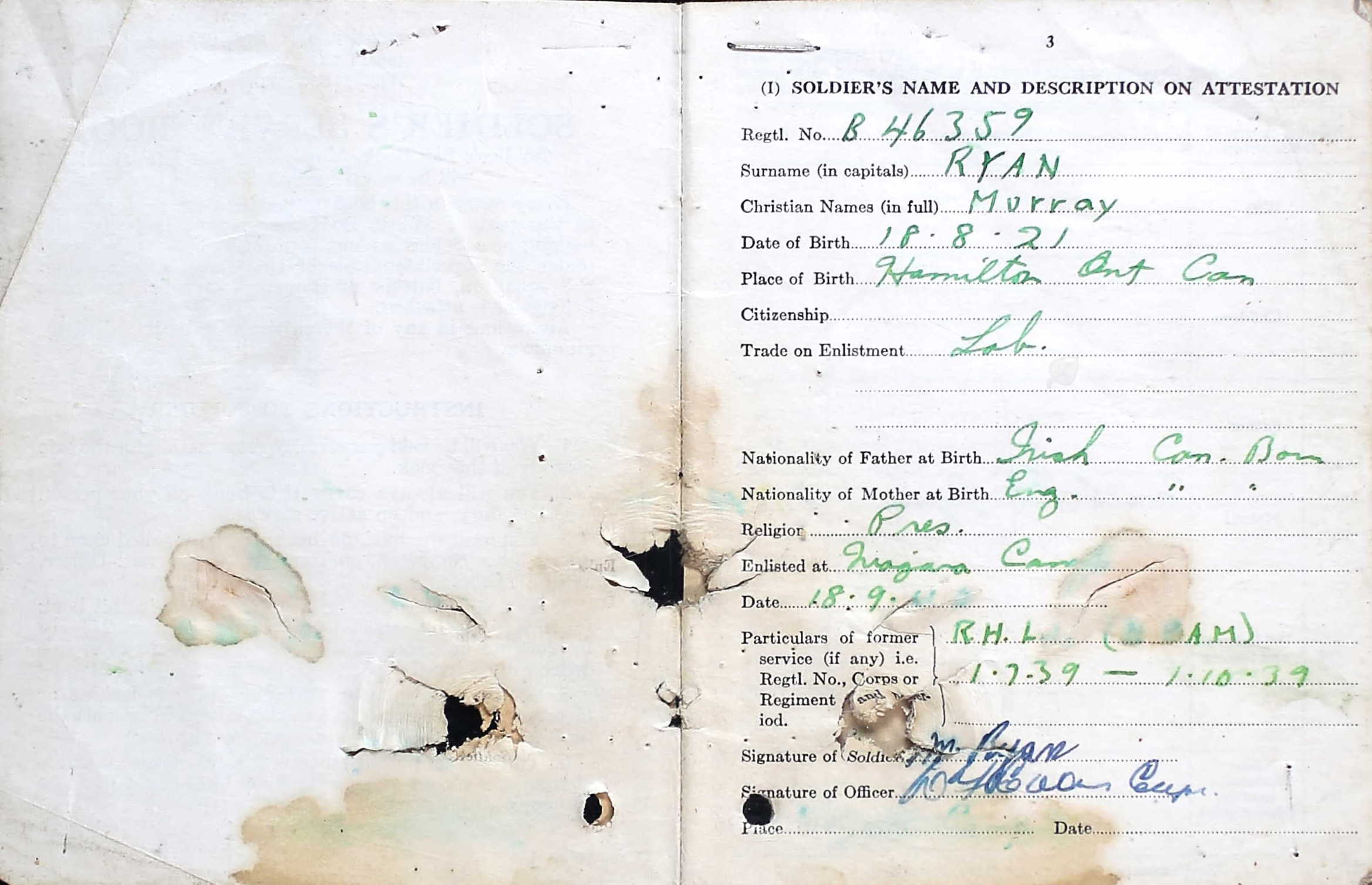 Murray Ryan joined the Argylls on 18 September 1940. With "dark" complexion, hazel eyes, and black hair, he was 5', 7" and weighed 128 lbs; three years later, he had added 1" and almost 40 lbs. A Presbyterian, he enjoyed swimming and hockey (defence), and his hobby, albeit occasional, was photography. In terms of his occupational history, he indicated no interest in farming after the war and no experience in it before. He hoped to return to Dominion Glass after the war and professed no desire either to return to school or to find a trade or employment elsewhere. Trained as a rifleman, by June 1942 he was in B Coy along with other Argylls such as Cecil Fisher, Bill Wingate, and Coningsby Gooderham. Like many young Argylls – Wingate is another example – Ryan accumulated a number of minor offences before going into action: 10 in all and usually for being AWOL, the most common of misdemeanours.
"Suitable reinforcement material"
On the return to Camp Niagara in May 1943, after the sojourn in Jamaica for 22 months, all personnel suitable for overseas deployment were interviewed by personnel selection examiners. Ryan's examiner described him as:
… a young chap, well built … has taken an active part in group sports and seems to be able to mix well. Two brothers are already in the army and the third soon will be. For past year his record has been good and it is felt he would make suitable reinforcement material … of average stability … of average ability – in good health and desire for action, he is considered suitable.
The officer recommended "Inf. (R) – Non Tradesman."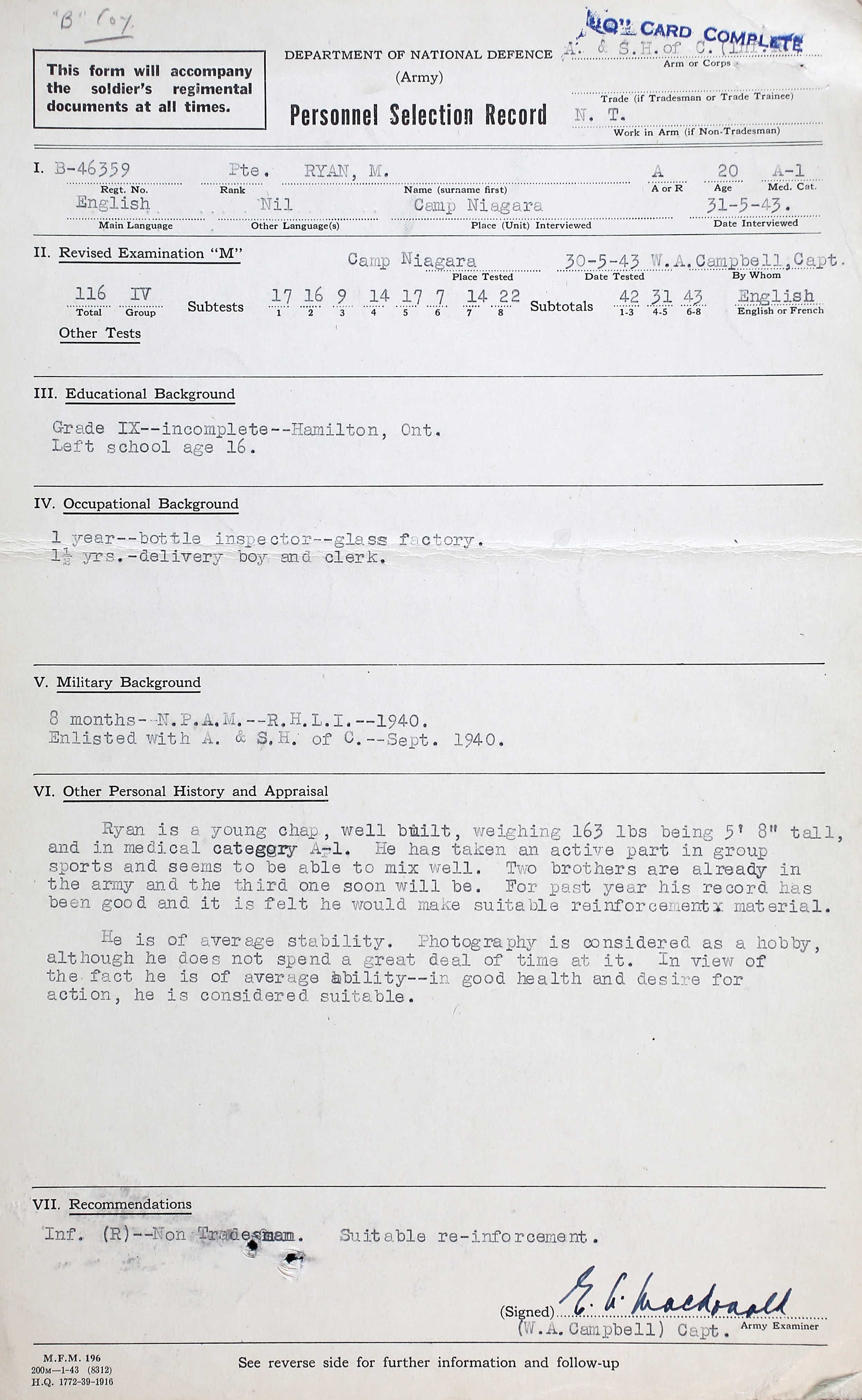 "Indifferent complaining man – appears to have been spoiled at home – not fully mature"
Ryan went overseas with the Argylls and was interviewed again on 7 January 1944. The form notes that he had 10 "Minor Offences" that resulted in 55 days "CB" (confined to barracks). They were the usual array of AWOLs: 5 in Allanburg or Camp Niagara from November 1940 to March 1941; 1 in Nanaimo in June 1942; 1 back in Camp Niagara in June 1943; 1 in Sussex, New Brunswick, in July 1943; and 1 in May/June 1944 in the United Kingdom. He received an "admonition for "drunkenness 1st offence" in Jamaica in February 1943 and an instance of failure to execute a lawful command in Sussex (July 1943). His deportment and appearance ("grooming") were both "fair." His physical appearance was "healthy." The comments were critical. The officer found him an "indifferent complaining man – appears to have been spoiled at home – not fully mature – normally sociable – restless egotistical."

Charge sheet, Jamaica, 1942–42.


"appears to lack initiative and avoids hard work if possible"
The MO, Capt Art Dougan, noted that Ryan "has appeared before me with minor complaints on many occasions. He appears to lack initiative and avoids hard work if possible." He also "falls out of route marches frequently for very slight discomfort." The examining officer spoke to Maj Don "Pappy" Coons, B Company's commander. He took a critical albeit hopeful view. Ryan was "of no use at present as a soldier, but commits no serious offences." Maj Coons was a man of great spirit and merciless optimism. He knew Ryan and understood the proclivities of some young and immature soldiers. A "period" of further training "at #10 Trg Coy would," he thought, "turn him into [a] satisfactory soldier." Capt C.P. Haynes of the Argylls noted cryptically "assessment report contested" and the second possibility employment – "#10 Trg Coy" – was crossed out. Pte Ryan remained with his unit. The first possibility – "Inf (R) – as at present" – became his destiny.
"uneventful"
Pte Ryan got his wish for action. He embarked for France on 21 July 1944 and disembarked there two days later. He was with B Company in its early actions, including Tilly-La-Campagne, where Bill Wingate and Coningsby Gooderham were killed and at Hill 195, where the Argylls under Lt-Col Dave Stewart and the inspired work of the Scout Platoon under Capt Lloyd Johnston were on display. B Coy was part of the battle group attempting to close the Falaise gap at St Lambert and moved out on 18 August. For the unit's war diarist, the day was "uneventful." Three Argylls were wounded – Cpl Reginald A. Johnson, A/Cpl James D. Tease, and Joseph T. Bromley. The latter two were with C Company. CSM George Mitchell wrote in his diary: "Move up Hill by B.H.Q. [Nazi – Mitchell drew a swastika] shelling starts. Wounded – J. Tease + J. Bromley." For Ryan, the diarist's observation proved otherwise. He was the only Argyll killed; it was his 22nd birthday.
"misleading to the uninitiated"
While recovering in hospital in late 1944, Cpl Harry Ruch reread his fragments of a diary and found them inadequate on several levels. One of them bears on the "uneventful" day on which young Ryan died. As always, Harry Ruch's insight provides useful context. "In action," Ruch wrote:
… situations are happening every second and every second seems an hour so only a small fraction of what happened can be catalogued. It will be noted that the term 'a quiet and uneventful night' has been used quite often. This statement will prove misleading to the uninitiated as I refer to a quiet night etc. compared to the noisy ones we had been through. There was never really a quiet night at the front. One was always on the alert and expecting anything.
HCapt Charlie Maclean buried Pte Ryan temporarily in the cemetery behind the village church in Les Moutiers-en-Auge in a brief, but loving, service and an Argyll piper played the battalion's lament, "Flowers of the Forest." On 28 August 1944 Ethel Ryan, his mother, received the dreaded and life-altering telegram announcing a casualty. She was the sole beneficiary of his will. For purposes of Pte Ryan's estate, the Reverend Thomas G. Marshall of Westminster Presbyterian Church certified that Ethel Ryan was Murray's mother. Pte Ryan, along with his brother Russell, is listed on the Roll of Honour for Prince of Wales school in Hamilton. His mother requested "Forever with the Lord" for his tombstone.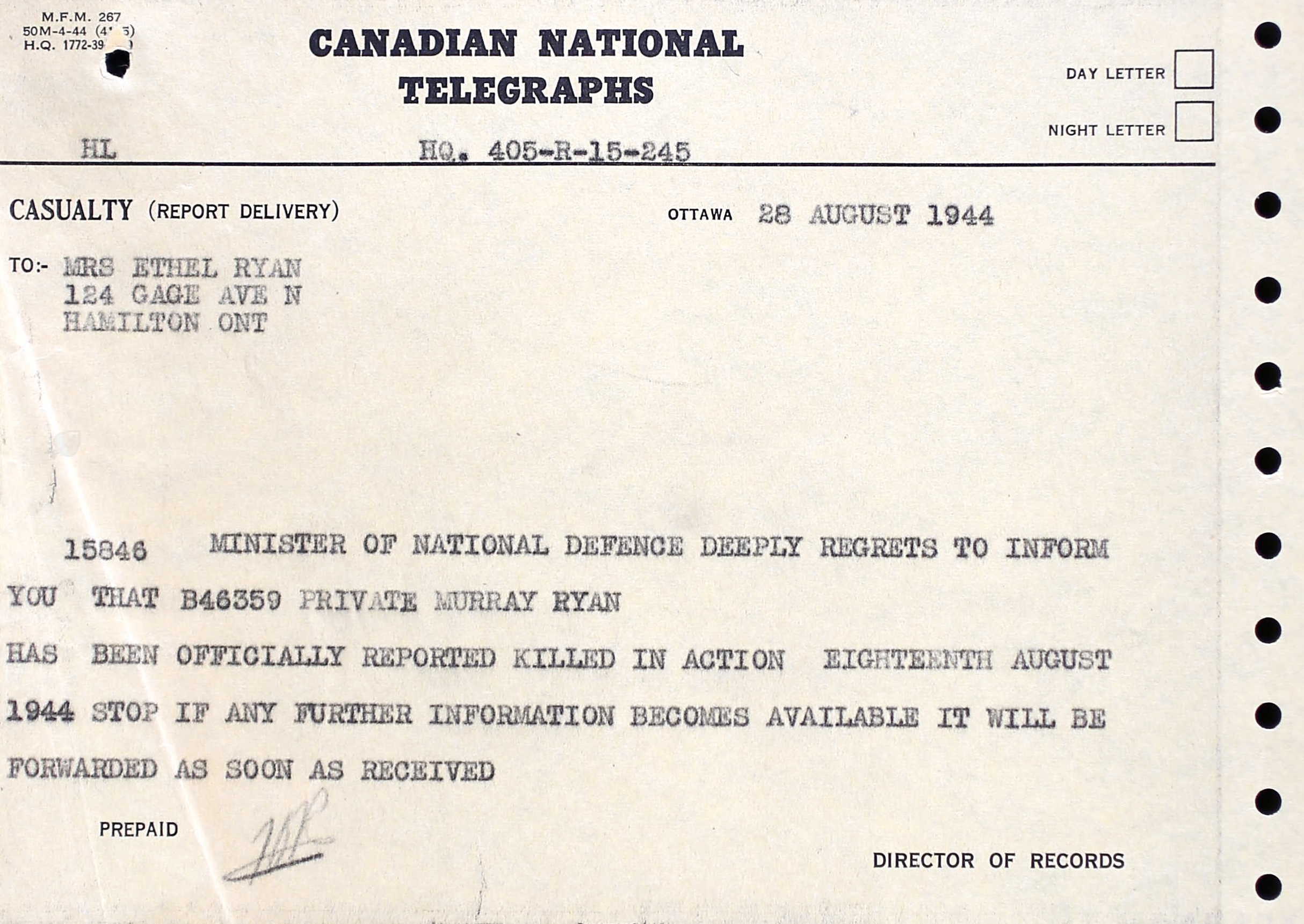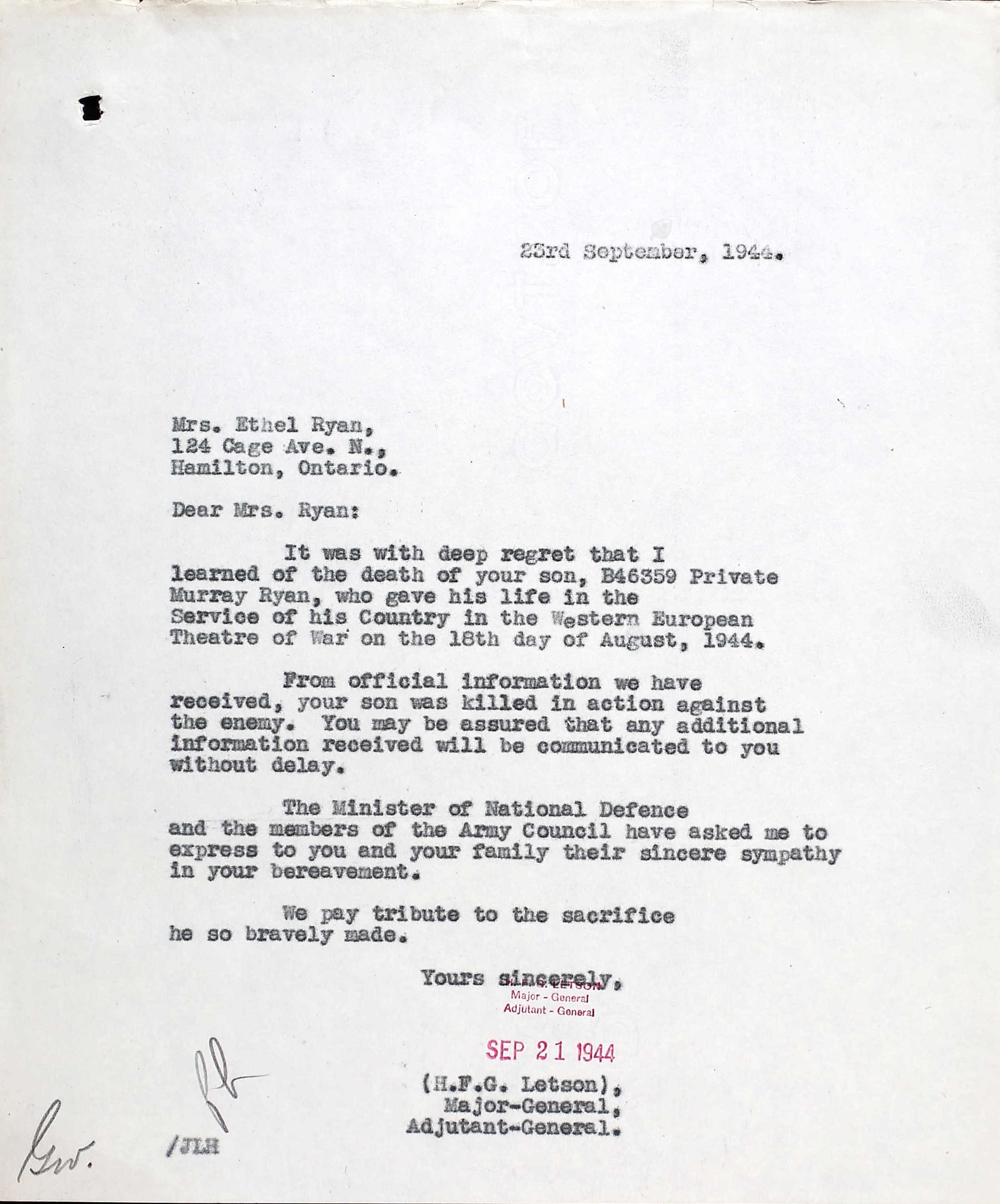 Adjutant General Letter to Ethel Ryan, 23 September 1944.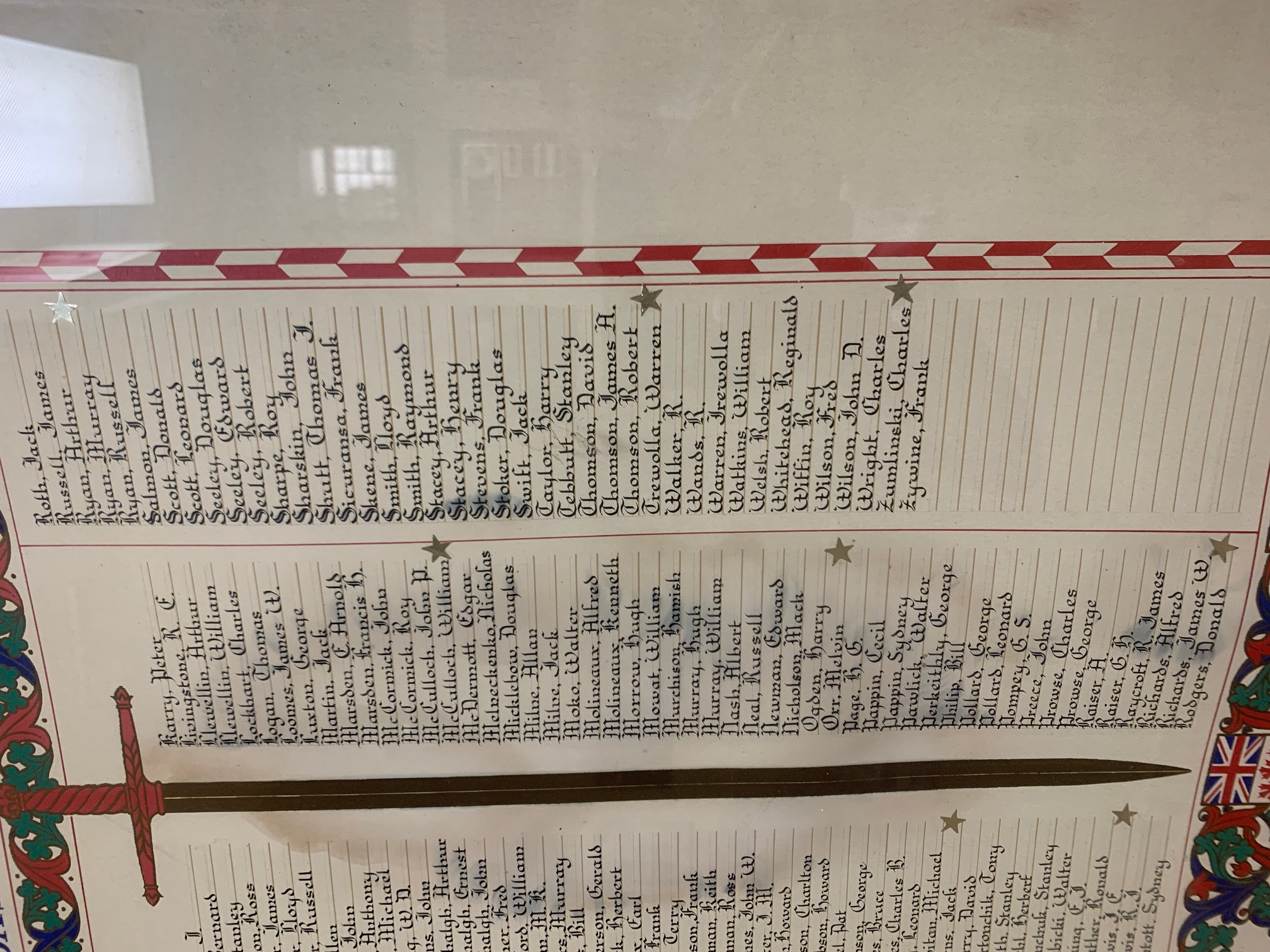 Roll of Honour, Prince of Wales School, Hamilton.


In respect for a young Hamiltonian who desired action – J. Murray Souter.
---
"a history bought by blood"
– Capt Sam Chapman, C and D Coys
"Death in battle is different" – We shall remember him – The Argyll Regimental Foundation on behalf of the serving battalion and the Argyll Regimental family
---
Robert L. Fraser
Regimental Historian

Pte Ryan's poppy will be placed in the virtual Argyll Field of Remembrance in the near future. The Argyll Regimental Foundation (ARF) commissioned Lorraine M. DeGroote to paint the Argyll Poppy (below) for the Field of Remembrance.