Death in battle is different, Sam Chapman thought:

"He is cut down in an instant with all his future a page now to remain forever blank.
There is an end but no conclusion."
– Capt Sam Chapman, C and D Coys
Introduction
The biography of Pte Johnny Sawyer provides the background to this tale of Pte Adolph O'Back, the Saskatchewan lad, scared of water, who drowned in action in Belgium. I learned of Pte O'Back's death and Pte Sawyer's from Pte Jake Leyland and Pte Mac MacKenzie, both D Company stalwarts and friends. I thank Caroline Cleemput of the Netherlands for providing the image and obituary of Pte O'Back. To date, we have been unable to find his family.
Robert L. Fraser
Regimental Historian
---
Pte Adolph O'Back (1924-44) (L 103552)
Drowned 8 September 1944
Within the span of two generations, the travels of Adolph O'Back's family embodied the impact of political, economic, and social transformation in eastern Europe; the opening of the Canadian west in the years prior to the First World War and the global movement of people from Europe to North America. His parents immigrated to Canada from Galicia with their families just prior to the First War. Galicia was a province of the Austro-Hungarian empire. In 1910, its population was 45.2% Polish and 42.9% Ruthenian (usually Ukrainian); 58.6% spoke Polish and 40.2% spoke Ruthenian (Ukrainian); the Poles were Roman Catholic, the Ruthenians Greek Catholic. Hundreds of thousands of Galicians immigrated between the 1870s and the 1910s; almost 100,000 Ukrainians came to Canada before 1914, many to Saskatchewan. Sir Wilfrid Laurier's Liberal government established the provinces of Saskatchewan and Alberta in 1905 and opened the door to immigrants.
Adolph O'Back was born on 22 April 1924 at Bienfait, Saskatchewan, to Nicholas Oback (Obuch) (1888–1941). According to the 1921 census, Nick Oback was born in Austria and immigrated to Canada in 1910. He could read and write, spoke English and German, and lived in a single wooden house with four rooms, which he owned. A miner and a Roman Catholic, he was married with three daughters aged 4, 2, and 1. The enumerator recorded that all three daughters spoke English. Adolph O'Back's army records give his father's "racial" origin as "Polish."
Nick Oback married Victoria Shasarowski (Shasaroski; Schezeroski) (1901/2–1991) on 10 June 1916 in Estevan, Saskatchewan. She was the daughter of Anthony Shasarowski (1876– ) who emigrated from Galicia in 1911 and was in Assiniboia, Saskatchewan, in 1916. He was a "Greek Catholic" who spoke "Ruthenian" and no English; he could neither read nor write. He worked as a "laborer" on the "railroad." His wife, Marie Shasarowski, was born in 1877 in Galicia; her "racial or tribal origin" was Ruthenian and nationality Austrian. She was Roman Catholic, spoke no English, but could both read and write; she immigrated to Canada in 1913, two years after her husband. Their daughter, Victoria, was born in Galicia in 1901 and immigrated with her mother and siblings in 1913. Although Victoria's "mother tongue" was "Ruthenian," she spoke English and could both read and write. In the 1916 census for Saskatchewan, a William Obach (age 22, born in Galicia in 1894, and immigrated to Canada in 1909) boarded with the Shasarowski family. It is not known whether he was related to Nick Oback or not.
In his 1944 army interview, Adolph O'Back (he signed his surname O'Back) indicated that his parents "divorced about 1930" and his "mother remarried twice." O'Back's older sisters, Olga and Stella, attended school in Bienfait in the late 1920s; there is no record for him. There is also no indication of an Oback divorce in the inventory of Canadian records. Adolph enlisted in Regina on 14 December 1942. His health was perfect except for some "nasal trouble," the result of a "deflected nasal septum." He had "two small black moles left angle of jaw." He was 5', 10", 148 lbs, with brown eyes and hair. He left school at age 15 and had completed grade 8 – "8 years at town school at Bienfait." He worked for Western Dominion Collieries, a coal mine, in Bienfait for one and a half years, making $60 weekly. He had "worked on farm during harvest seasons, worked with horses only"; he later expanded on that statement. He had four years (1937 to 1941) limited experience grain farming in western Saskatchewan, making $10 weekly. He wished to return to the mines after the war, and also expressed an interest in becoming a mechanic. He played hockey and baseball, and liked swimming.
"Enlisted voluntarily" for "Adventure"
O'Back had no military background and "Enlisted voluntarily" for "Adventure." He "reads mechanical books, mostly. Speaks English only." In 1944, O'Back revealed that his father was "Polish" and that he (Adolph) spoke Polish as well as English. The 1942 army examiner noted:
Likes to take part in track and field events. Interested in hunting small game. Fond of music, does not play any musical instruments. Does not dance, likes pictures, mostly westerns. Non drinker, smokes a little. Clean civilian record.

Mother living at Bienfait, Sask. Father died 1940 [1941]. Was working in mines. Mother remarried, has 3 step brothers and 2 step-sisters.

… Will serve in any branch, had some experience at truck driving – would like to take up this line of work in army. Well suitable as driver i/c. Good attitude.
The recommendation was: "Infantry (R) Driver i/c Complete all training. Non-Tradesman."
"a large group of men from Saskatchewan"
Pte O'Back was transferred to #120 Basic Training Centre at Regina on 16 January 1943. Having completed basic training, he went to A 15 Canadian Infantry Training Centre ("Reinf") at Shilo, Manitoba, on 1 April. The army increased his pay to the regimental rate of $1.50 per diem on 15 June 1943. He had a furlough from 7 to 20 June and was struck off A 15's strength to the Argylls on 3 July. The 1st Battalion had returned from 22 months in Jamaica in May. By 30 June, 129 Argylls had been "struck off strength," usually because of age or physical condition. On 5 July, the war diarist noted that 152 "other ranks arrived in Camp this afternoon.… This draft came from Camp Shilo … by train." The Argyll welcome included a meal, confirmation of next of kin, and "a V.D. inspection at the R.A.P." Pte John Booth was part of the Shilo draft. He recalled that at Shilo we "were joined by a large group of men from Saskatchewan who had finished their basic training in their home province"; Pte Wilbert Burrill was one of them as were Pte James Bannatyne and Pte Lyall Wotton. It was "tough training" at Shilo, Booth remembered:
… the N.C.O.'s had their job to do, they were harsh drivers of men who pushed us to the limit of endurance every day, we ran a lot, it was prairie west of camp … and east of camp it was sand dunes and bush …"
The day following their arrival, Lt-Col Ian Sinclair, the commanding officer, "addressed the men and posted each man to a company." Three days later, the unit entrained for Sussex, New Brunswick, and then boarded the Queen Elizabeth for the trip to the United Kingdom, where the battalion disembarked at Gourick, Scotland, on 28 July. The following day, the unit entrained for Camberley in Surrey, about 30 miles southwest of London. There were parades, refresher training, route marches, inspections, night training, and passes. Almost every night and again the next morning, Allied bombers passed overhead en route to, and back from, Germany. On 16 August, he received seven days' personal leave "plus 48 hrs." Like Pte Sawyer, O'Back was posted to D Company and his life with the Argylls was shaped by his platoon (16, 17, or 18) and his company. The contours of that life are outlined in Pte Sawyer's biography.
"of Polish-Ukrainian stock … pronounced language disability"
Pte O'Back was interviewed at Uckfield on 24 January 1944. The examiner wrote:
This youth is of Polish-Ukrainian stock[.] Sturdy, stocky build, speaks English rather brokenly and at times his reactions are very slow. His powers of comprehension are limited, although he has an alert active manner which might indicate his main difficulty is one of language and limited schooling. Has driven a little in civilian life and would like to do same in army. Home background rather broken, mother remarried for third time, appears to have been more or less on his own for some years. No evident leadership ability, should be normally efficient infantryman and good combatant material. About low average intelligence with pronounced language disability which might preclude any specialized training.
His recommendation was: "Infantry (Rifle)." That direction was sufficient to ensure O'Back would go into action. Either the interviewer probed more than the previous examiner or O'Back provided more information in response to questions. The details reveal a "rather broken" family life, "limited schooling," language difficulties, and possibly a life "more or less on his own for some years." The evaluation of intelligence should be understood in the context of low scores for literacy and numeracy on the "M" tests, limited schooling, and a "pronounced language disability." None of it precluded the possibility of O'Back becoming a "normally efficient infantryman and good combatant material."
Like so many Argylls, O'Back took advantage of the opportunity afforded by the imminence of invasion. They assumed that the penalties would be relatively minor given the army's needs. He went AWOL on 6 May 1944 and forfeited seven days' pay for his indiscretion. The months of May, June, and July were given over to range work, conditioning, and preparation for Normandy. Pte O'Back embarked in the United Kingdom on 21 July and disembarked in France two days later. The remaining six weeks of his life, as with Sawyer, were defined by the tasks assigned to his platoon (16, 17, or 18) and D Company. The "stocky, sturdy" O'Back was #2 on the Bren gun to Sawyer's #1. The latter carried and fired the Bren; the former was weighed down with additional magazines carried in ammunition pouches, a spare barrel, and a tool kit. He spotted targets, helped to reload, and replaced the barrel when it overheated. A Bren gun, depending on the model, weighed 22 to 25 lbs.
"lots of your friends [in D Company] are gone, eh, wounded and everything"
Pte Jake Leyland rejoined the Battalion after having been left behind in England with the reinforcement company in July:
…to come back and see the fellows was fantastic. The first two people I met when I joined the Regiment in France again was the RSM [Peter Caithness McGinlay], who shook my hand … he said, "Jake, lots of your friends [in D Company] are gone, eh, wounded and everything." And, he said, "Be careful."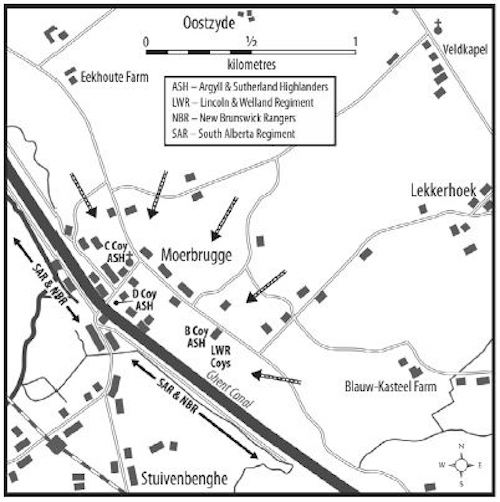 "and he just ssshhh, you know"
Pte Leyland remembered Moerbrugge – his own first battle – vividly. In part, the intensity of his memory derived from the evocative power of the image of Sawyer's and O'Back's last few minutes of life. D Company was the first to cross the Bruges-Ghent Canal. There were numerous casualties from enemy shelling before the crossing, but it was the reminiscence of "the guys caught in the water" that gave his recollection its potency:
… we took a shit kicking. There were guys caught in the water … they were pulling over a wooden boat and a kid went in the canal and it tipped on him. He was loaded down with Bren guns and bandoliers, and he just ssshhh, you know. And the major [R.D. "Pete" Mackenzie] tried to go after him and we pulled him back."
"lost two men … so weighted down with their equipment that they just sank"
Maj Mackenzie recalled:
We sent across the first boat; I think [it] had four in it. And they took the rope across…. They were to fasten the rope on the other end and we'd pull the boat back and forth – which worked fine the first couple of times…. When the second or third group crossed … the boat sank. We lost two men, so weighted down with their equipment that they just sank straight to the bottom. Pulled the boat back as quickly as we could, emptied it, and got the rest of the Company across…. We were across before last light."
"still hanging on to the Bren gun the last I saw of him"
LCpl Melvin Junck was in that first boat:
… ahead of my section. My Bren gunner was a fellow from the west [Pte Adolph O'Back] who was scared skinny of water. And so when they pulled the boat back … they didn't dump it. And, of course, it had quite a bit of water in it…. and they didn't get across the canal. The boat went down and, of course, he panicked and he was still hanging on to the Bren gun the last I saw of him going straight down.
"wanted to go in after them [but] we stopped him"
Pte Mac MacKenzie never forgot that [Maj] Pete MacKenzie "wanted to go in after them [but] we stopped him." Maj MacKenzie was wounded later in the day. Pte Jack Sawyer and Pte Adolph O'Back, #1 and #2 on a Bren gun, died that day of drowning. HCapt Charlie Maclean buried Pte O'Back along with Sawyer and others "on main road to St. Georges." His Field Service form recorded the cause of death as "Drowned (K/A)."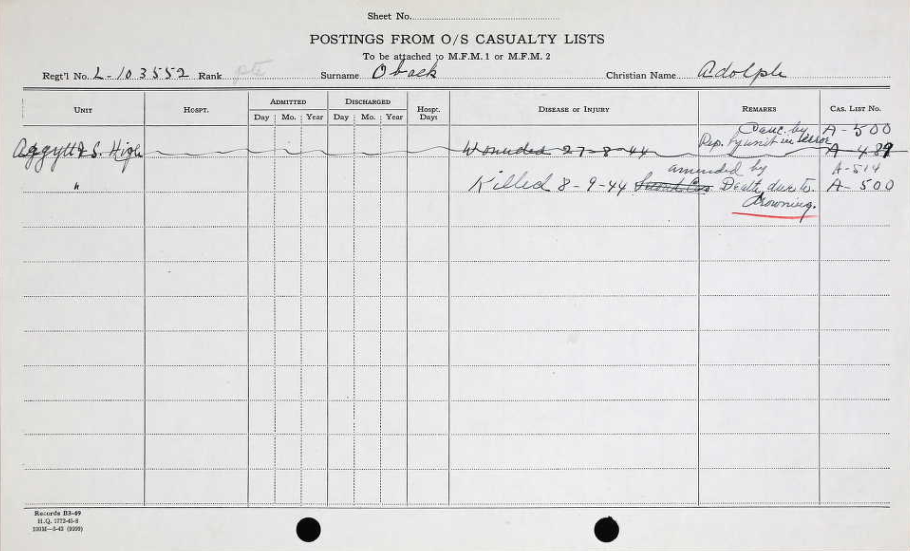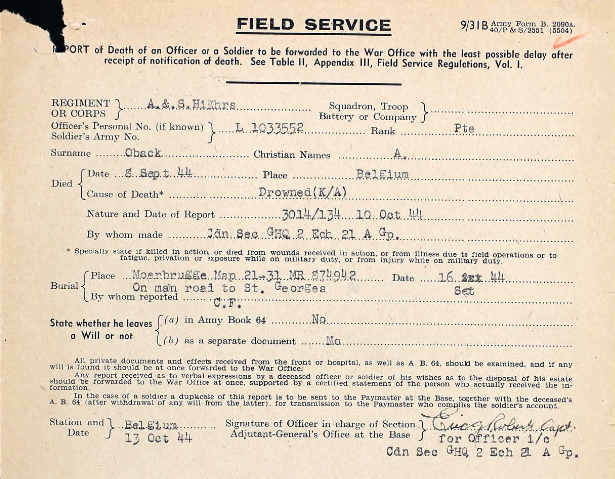 "1 pr Eye Goggles"
Pte O'Back left: a kit bag and kit bag handle, 2 "Neck Ties," a khaki scarf, a Glengarry, a wallet, a cardboard box for a "Pen & Pencil Set," a bundle of personal letters and greeting cards, a lanyard, a padlock and key, and "1 pr Eye Goggles." He left everything to his mother, Victoria Wheeler. On 7 November 1944, she wrote to the Canadian Red Cross Headquarters that her son "was killed overseas recently, and I would like to know just exactly where he was buried … he was killed in France Sept. 8th, death being due to drowning." His name is listed on the Roll of Honour for the Bienfait District as "D. Oback." Oback Lake, east of Wollaston Lake, in Saskatchewan, honours his service and sacrifice.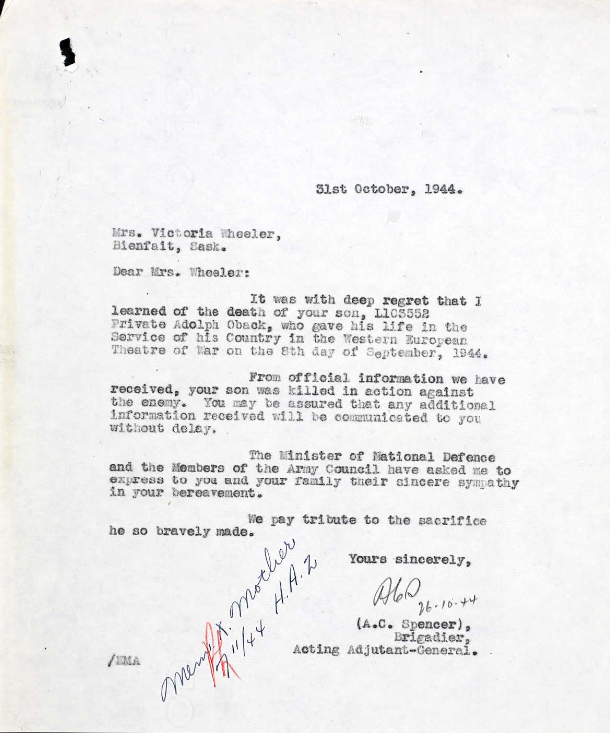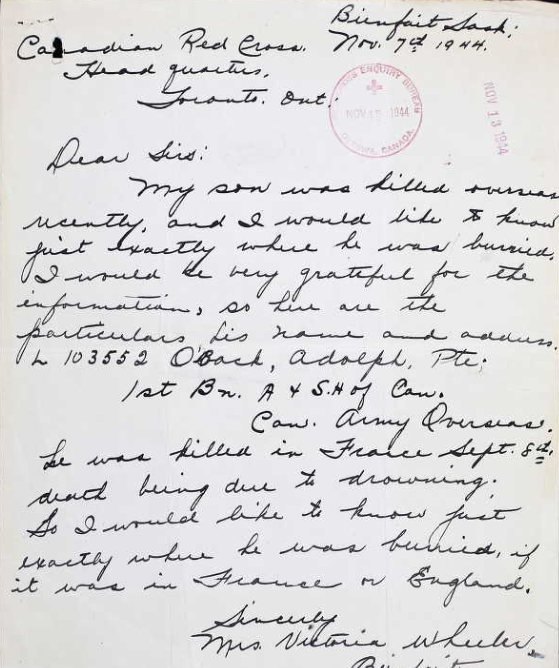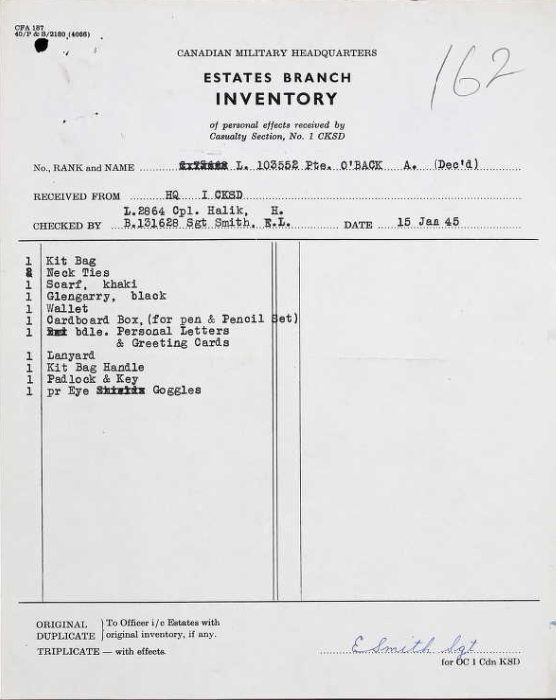 ---
"a history bought by blood"
– Capt Sam Chapman, C and D Coys
"Death in battle is different" – We shall remember him – The Argyll Regimental Foundation on behalf of the serving battalion and the Argyll Regimental family
---
Robert L. Fraser
Regimental Historian
Pte O'Back's poppy will be placed in the virtual Argyll Field of Remembrance in the near future. The Argyll Regimental Foundation (ARF) commissioned Lorraine M. DeGroote to paint the Argyll Poppy (below) for the Field of Remembrance.