Death in battle is different, Sam Chapman thought:

"He is cut down in an instant with all his future a page now to remain forever blank.
There is an end but no conclusion."
– Capt Sam Chapman, C and D Coys
Introduction
In 2019, after the Argyll Regimental Foundation (ARF) launched its new email database, I decided to use it to send the Regimental family postings about the 75th anniversary of Argyll battles in 1944–45 along with a brief notice of a life lost – the face of battle. The execution was somewhat haphazard as we made the transition from one email system to a new more comprehensive and flexible contact management system.
Last year, ARF decided to harmonize its various platforms with a commemorative month of remembrance that featured daily email postings and mounting of the biographies on the ARF website. We decided to replicate last year's effort, which requires considerable research and writing for a month of daily postings. I decided to use a few of the 2019 postings, which were not published, this year. I have revised them, although in some cases I retained the original organization, a bit about the battle, and then the depiction of the life lost.
Today's Argyll Poppy is for Pte John Sawyer, one of two Argylls drowned in battle. I have known about him and Pte Adolph O'Back since 1984. Pte Mac MacKenzie and other veterans related their tale within the context of the battle of Moerbrugge, Belgium. Maj Bob Paterson, the OC of C Company, was scathing in his contempt for Maj Bill Stockloser, the acting CO for the first part of the battle, and his ill-considered battle plan. The scorn for Stockloser was shared by Capt Claude Bissell, Maj Peter MacKenzie, Maj Bill Whiteside, Maj Gord Armstrong, Maj Jack Harper, Maj Hugh Maclean, Capt Sam Chapman, and Lt-Col Dave Stewart. Maj Paterson's searing derision for the so-called "crossing of opportunity" is a vivid recollection, still etched in my memory, some 35 years later. Unlike mistakes in other aspects of life, blunders in battle cost lives. Bissell told me that in the last year or so of his presidency at the University of Toronto (1970/71), his secretary reported an incoming phone call from "a Maj Stockloser." Bissell refused to take it. He was a bit rueful in relating the story in the late 1980s; there was no regret, however, at the time.
The story of Moerbrugge is redeemed by the doggedness of C Company, Maj Paterson, CSM George Mitchell, and the soldiers. The importance of leadership in battle, as Maclean would have it:
…matters too – most of all, no doubt. We were lucky in this as in so much else; leadership and to spare up and down the ladder of command. But the best of our leaders was Dave Stewart. Wise, thoughtful, and compassionate he was.… Cheerful and courageous, whatever winds blew, what top-brass changes of plan bedeviled his careful plans.… Such was the gift of our finest leader, Colonel Stewart, chief source and root, at last, of our regiment's high-spirited morale – whatever might befall.
And it was redeemed by Dave Stewart's return to the battalion mid-battle.
I am grateful to the Huntsville Public Library and to its CEO and chief librarian, David Tremblay, and to Cortney LeGros, coordinator of outreach programs and partnerships, for their help. They made a splendid effort to find an obituary and an image of Pte Sawyer in their local newspapers and files, but, unfortunately, without luck.
Robert L. Fraser
Regimental Historian
---
Battle of Moerbrugge: Part 1
The 1st Battalion mobilized in 1940. It went into battle in late July 1944 with a large core of superbly trained officers, NCOs, and other ranks. After adjusting to the reality of battle – casualties such as Pte Percy Hindle, Pte James Bannatyne, ACpl Coningsby Gooderham, Pte Bill Wingate, Pte Bill Jones, and Lt Milt Boyd and others, it proved itself in battle during the first six weeks of action, notably at Hill 195, St Lambert, and Igoville. The reality of battle was nightmarish and its consequences – killed, wounded, and POWs – provided considerable challenges to Argyll leadership and the unit's ability to sustain itself in battle.
From 29 July to 7 September, the battalion lost 84 KIA, including 1 major, 6 lieutenants, and 6 NCOs; the wounded numbered 229, including 3 majors, 2 captains, 7 lieutenants, and 11 NCOs; the POWs were 20, including 1 major, 1 captain, and 3 NCOs. The total was 333 struck off strength between 29 July and 7 September! The battalion's establishment on 26 July was just over 800; its fighting strength 400 to 500. B and C companies sustained such heavy losses that they were amalgamated into one company following their action at St Lambert (see ASgt Cecil Fisher, Pte Ira Hedman, and Pte "Pop" Burrill).
In the days after Falaise, the Allies pushed into Belgium. Moerbrugge was one of the opening engagements of the Battle of the Scheldt. At the highest level, the situation changed rapidly after the capture of the port of Antwerp on 4 September (useless because the Germans still controlled the approaches to it by land). Ports were a high priority to supply the rapidly expanding, and now rapidly moving, Allied force. 4 Division controlled Bruges and moved south of it to take a bridgehead at Moerbrugge on the Ghent Canal. Lt-Col Dave Stewart had been called away to take over 10 Brigade and command went to the despised 2ic Bill Stockloser. The bridges across the canal had been blown up. Reconnaissance suggested that there would be light resistance across the canal. The battle for Moerbrugge would prove grim and bloody, and would test the Battalion, especially C Coy, in a manner it had not yet encountered. Moreover, the Argylls faced this challenge seriously under strength.
Major reinforcements did not come until the first tranche of 80 arrived on 11 September. Reinforcements, and particularly their low quality of training, proved yet another continuing problem through to the winter cessation of hostilities.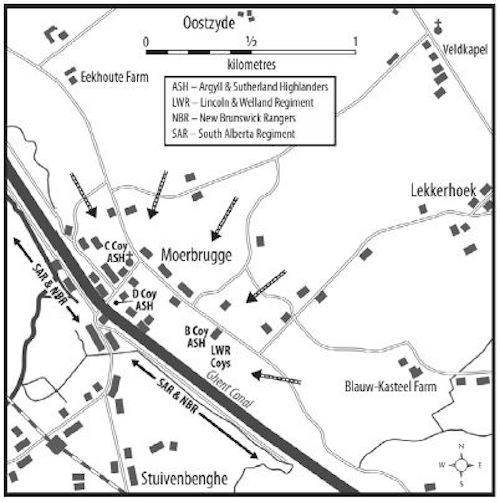 On 8 September 1944, the Argylls attacked Moerbrugge, a small village on the Ghent-Bruges canal. There were three phases to the battle. It was a "costly, grim, and bloody action" by a cut-off C Coy against a far superior enemy force. 13 Platoon, C Company, lost 25 of 34 soldiers. With no rations or extra ammunition, the company hung on: a cool officer commanding (Paterson) a superb CSM (Mitchell), and fine, determined, well-trained soldiers. This "fragmented and messy… terrible battle" showed Argyll leadership, soldiering, and guts at their best. The hamlet of Moerbrugge had a T-shaped plan with a street leading straight to the canal with houses on either side. It ran into a junction, and there was a small church. A Company and the Scout Platoon led by Capt Lloyd Johnston launched a diversion west of the village. C and D companies would attack the village. The canal was deep and 50 to 100 feet wide (estimates vary). The unit had no assault boats for the crossing and no supporting fire from artillery to cover it. The company commanders were astonished. At the orders group, Maj Flan Paterson, C Company, asked the 2ic the obvious question: how would they cross? Stockloser's reply and his contemptuous braggadocio – "It will be a crossing of opportunity" – earned him the lifelong enmity of his fellow officers.
Paterson remembered that in French novels there were always boats tied up along rivers. Maj R.D. "Pete" Mackenzie, D Coy, found two old, large black punts (without oars). At 1730 hours, one section of D Coy crossed (4 to 7 Argylls per load) to set up a rope for pulling the boats across. The divisional field artillery was short of ammunition and the South Alberta Regiment's tanks provided indirect fire from their Shermans. The battalion made effective use of the 3" mortars of the mortar platoon, and the 4.2" divisional mortars were also brought into play. D and C came under fire immediately: an 88mm firing right down the main street, 20mm flak guns along either side of that street, and mortars. Before it started its cross, C was reduced from 63 to 46 in two hours. At last light, the two companies had crossed. D had lost its OC, Maj Pete MacKenzie, and C had lost its only junior officer. C Company had made it (on the left of the main street) to the church; D was held up in houses on the right. The companies dug in and waited for the next day.


Pte John Sawyer (1923–44) (B 138800)
Drowned in action 1 September 1944
"to help at home"
The Sawyer family had moved from Lower Canada to Upper Canada by the 1850s. They were among the earliest settlers in the Algonquin Highlands settling in the area of Hollow Lake. Born in Toronto and raised on the family farm in the Haliburton area, John Sawyer was the eldest of Norman Edward Sawyer's (1897-1953) and Audrey Della McElwain's (1908-93) six boys. John's parents were married on 24 June 1933 at Hollow Lake; John was born at Women's College Hospital in Toronto ten years earlier. He lived at Hollow Lake until the two years prior to his enlistment. Times were hard, and he left school after grade 7 ("at age 17"; in a subsequent interview, it is grade 8 and age 16 having "Failed once") "to help at home." Prior to enlistment, he worked for a year in a lumber mill at Dorset for "F. Hubble." He made $18 weekly plus board. He then worked three to four months in 1941 for Warren Bituminous Paving Co. in Huntsville earning $28 weekly. On his army forms, Sawyer later rated lumbering as his "main occupation."
"most of chums signed up"
John Sawyer enlisted in Bracebridge on 18 January 1943 because "most of chums signed up." He was a Presbyterian. His father was "Incapacitated" and his parents lived in a modest home at 15 Lorne Street in Huntsville. A personnel selection board officer interviewed him in Toronto on the 19th:
Recruit's training-absorption powers are low-average. He is mediocre type of rather poor appearance, but responsive and co-operative … He is not particularly interested in sports but likes hockey, hunting and swimming. His habits and stability seem average. He has no preferences as to which branch of the Army he serves but thinks he would like infantry. He should be suitable for work as a non-tradesman in this Arm.
Pte Sawyer was 5', 6", 138 lbs, with blue eyes and light brown hair. He had "Several decayed teeth" and an "operational scar lower right abdomen." A subsequent interview explains that he had an appendectomy in 1942. Personnel board officers usually based their assessment of intelligence and capability on the tests for literacy, numeracy, and mechanical aptitude in the "M" tests. Low scores often indicated the level of education and its quality more than anything else. The officer recommended: "Inf. (R) - Non-tradesman."
"Little hang dog but responsive and answers readily"
Sawyer was attached to No. 20 Basic Training Centre in Toronto on 12 February 1943, then to A10 Canadian Infantry Training Centre at Camp Borden on 30 April 1943. He received a pay increase to $1.50 daily, the full regimental rate, on 18 July. He was granted a furlough from 19 July to 1 August before his transfer to No 1 Transit Camp on 24 August; he went overseas the next day disembarking on 1 September in the United Kingdom and taken on strength at 4 Canadian Infantry Reinforcement Unit.
Pte Sawyer was interviewed again on 10 September. The examiner found his disposition – "Sincere rather hesitant"; his grooming – "Bad complexion"; and his physical appearance – "good." Sawyer was now 5', 8" and 160 lbs; doubtless he was still growing and regular meals played their part. The examiner remarked:
Low average intelligence. Rather poor appearance. Little hang dog but responsive and answers readily. Seems suitable for Gen duty.
The assessment of low intelligence was commonly applied to soldiers who had left school early and performed poorly on the literacy and numeracy components of the "M" tests. Sawyer expressed his desire to be a "Bren Gunner" and was recommended for "Gen duty."
"assimilate them into the company"
Pte Sawyer went overseas in August 1943 for advanced training and, after its completion; he was posted on 2 October 1943 to the Argylls and D Company. He arrived at Riddlesworth Camp at 2000 hours on the 1st along with 141 other reinforcements, including Pte Ira Hedman. Sawyer got his wish: he was a Bren gunner. CSM Wilf Stone, D Company, handled the new recruits:
… We used to get some bunches … I would take them and assign them to platoons, and introduce them to the sergeants, and the sergeants would take them from there and they would assimilate them into the company. They would give them background and that type of thing.
"weather was terrible … ten days soaking wet"
Assimilation came quickly with advanced training, conditioning, and field exercises at the company, battalion, brigade, and divisional levels. Capt Pete MacKenzie, D's OC, had less than fond memories of October's exercise: "it was a miserable week: rain, cold and night movements. Not much sleep; not enough food." Pte O.C. Taylor of D Company had similar recollections: "weather was terrible … ten days soaking wet." In November, the battalion moved to Uckfield in Sussex where the temp of training quickened. December brought Christmas festivities, celebratory meals, packages from home, parcels from the Women's Auxiliary, and passes. Pte Percy White, D Company recalled New Year's Eve in Piccadilly Square, London: "everybody was out: men, women and children … they were dancing and they were singing. And this goes on all night."
"The food was lousy up there … it was horrible at Inverary"
The new year brought increased work on the ranges. Pte Sawyer rang in the year in fine celebratory fashion, he went AWOL from 8 to 12 January forfeiting 22 days pay. In February, the unit underwent a two-week period of amphibious training at Inverary in Scotland. Pte Len Marshall, D Company, appreciated the local signage:
… the sign said when you walked into Inverary … 'Through these portals walked the hungriest soldiers in the world.' The food was lousy up there … it was horrible at Inverary. And that's where we had to go.
"physical fitness is the first requirement of a good soldier"
Range work and more range work, conditioning, route marches, and inspections were all part of the routine. Lt Milt Boyd noted in the war diary on 4 April that "C and D coys are out to-day for all day route marches. This hardening-up process both in endurance and speed will make this bn able to compete with the best, since physical fitness is the first requirement of a good soldier." There were also entertainments and plenty of dances.
"our turn will come"
Major General George Kitching, the 4th Division's commander, inspected the battalion at Uckfield on 13 June 1944. He told the troops that they would face "crack enemy Panzer divs" and "tough fighting as these enemy youths are fanatical in their resolution for the Nazi Regime." Pte Anonymous, D Company, had specific memories of Kitching's detailed explanation about the crowded bridgehead in Normandy, "there wasn't enough room to manoeuvre the tanks … but that our turn will come."
"When in the hell are we going to get over there"
Pte Mac MacKenzie, 18 Platoon, D Company, wrote Millie Rantell in June: "Last night we had our platoon party [at the Peacock in Fletching] + to say the least it was really a wee bit of all-right. The beer flowed steadily until closing time and all the fellow had a first-rate time." Cpl Tommy Dewell, D Company, was on edge: "we were all anxious. We were all sitting there waiting, waiting, waiting: 'When in the hell are we going to get over there'."
"very strange in camp … Most of the fellows … thinking of their loved ones…"
Mac wrote Millie on 18 July 1944 about the previous night in D Company:
…Last night it was very strange in camp especially in the later part of the evening around the fireside. Most of the fellows were miles away thinking of their loved ones and hoping they were well and safe. Someone started to hum very softly and slowly the fellows around joined in some singing just above a whisper + others whistling ever so softly. Others, myself included just sat and listened for a wee while, then we too joined in.

The song they were singing betrayed their thoughts. Almost everyone knows it well, it was made famous by our fathers twenty-five years ago. You remember it well dearest,

There's a long, long trail awinding
Into the land of my dreams,
Where a nightingale is singing
And the blue grass gleams.
And so it goes, these are the same men who the night before sang so cheerfully and such happy go lucky songs. A stranger would never know these were the same men.
Once in awhile someone would try to start something cheerful but it never lasted. Some of the songs they sang were Till the Lights of London Shine Again, Say a Prayer for the Boys Over There and many, many others of the same type old and new…
France may not have been the land of Pte Sawyer's dreams. None the less, he embarked for it on 21 July and disembarked two days later. The battalion suffered its first battle deaths before going on the offensive (see Pte Percy Hindle). Pte Anonymous, D Company, remembered Bourguébus: "the shelling was horrific … almost constant." Argylls such as Pte James Bannatyne were killed by it. Fear was as ubiquitous as flies, heat, dust, and destruction. Pte Harry Kirkland, D Company, said, "You try to hold it down, not let it get away on you."
"… we took a shit kicking"
Pte Jack Sawyer survived the early small engagements such as Tilly-La-Campagne (see ACpl Coningsby Gooderham), and the major ones Hill 195 (see Lt Milt Boyd), and Igoville (see Pte Joe Bearss). The battalion bleed heavily from 29 July to 7 September. Jack Sawyer had made it us far through France into Belgium, where he met his fate.
"loaded down with Bren guns and bandoliers"
Pte Jack Leyland remembered Moerbrugge – his own first battle – vividly. D Company was the first to cross the Bruges-Ghent Canal and:
… we took a shit kicking. There were guys caught in the water … they were pulling over a wooden boat and a kid went in the canal and it tipped on him. He was loaded down with Bren guns and bandoliers, and he just ssshhh, you know. And the major [R.D. "Pete" Mackenzie] tried to go after him and we pulled him back."
"so weighted down with their equipment that they just sank"
Maj Mackenzie recalled:
We sent across the first boat; I think [it] had four in it. And they took the rope across…. They were to fasten the rope on the other end and we'd pull the boat back and forth – which worked fine the first couple of times…. When the second or third group crossed … the boat sank. We lost two men, so weighted down with their equipment that they just sank straight to the bottom. Pulled the boat back as quickly as we could, emptied it, and got the rest of the Company across…. We were across before last light."
"still hanging on to the Bren gun the last I saw of him"
LCpl Melvin Junck was in that first boat:
… ahead of my section. My Bren gunner was a fellow from the west [Pte Adolph O'Back] who was scared skinny of water. And so when they pulled the boat back … they didn't dump it. And, of course, it had quite a bit of water in it. … and they didn't get across the canal. The boat went down and, of course, he panicked and he was still hanging on to the Bren gun the last I saw of him going straight down.
"wanted to go in after them [but] we stopped him"
Pte Mac Mackenzie never forgot [Maj] Pete MacKenzie "wanted to go in after them [but] we stopped him." Maj Mackenzie was wounded later in the day. Pte Jack Sawyer and Pte Adolph O'Back, #1 and #2 on a Bren gun died that day of drowning. HCapt Charlie Maclean buried Pte Sawyer on 14 September in a "10 CIB Cemetery Moerbrugge L. Side road going to St. George's near church" in row 3, grave 10.
On 12 October 1944 the director of records wrote Audrey Sawyer advising her "that it has been ascertained that he was killed in action on the 8th September and not the 10th as previously reported. The report further states that his death was due to drowning."
Pte Sawyer's name lives on the Huntsville Cenotaph. His family, "Mother, Dad and five brothers" placed in memoriam notices in the Huntsville Forester near the anniversary of his death in 1945 and 1946. He was "Sadly missed but always remembered." Their chosen poem expressed their sorrow:
Days of sadness come o'er us,
Tears in silence often flow,
For memory keeps you ever near us,
…
For memory is the only thing
That grief can call its own.
"Within our hearts he liveth still"
The next year's memoriam piece touched on themes common to enduring grief: "Within our hearts he liveth still" and the memory was "fond and true." Jack's young brother, Cleon Harold Sawyer (1933-2016), was, according to his obituary, "devoted to his older brother John." Cleon joined the army in 1951 and served in Korea until 1955. Cleon Sawyer's memory of Jack remained "fond and true" all of his life.
---
"a history bought by blood"
– Capt Sam Chapman, C and D Coys
"Death in battle is different" – We shall remember him – The Argyll Regimental Foundation on behalf of the serving battalion and the Argyll Regimental family
---
Robert L. Fraser
Regimental Historian
Pte Sawyer's poppy will be placed in the virtual Argyll Field of Remembrance in the near future. The Argyll Regimental Foundation (ARF) commissioned Lorraine M. DeGroote to paint the Argyll Poppy (below) for the Field of Remembrance.