Death in battle is different, Sam Chapman thought:

"He is cut down in an instant with all his future a page now to remain forever blank.
There is an end but no conclusion."
– Capt Sam Chapman, C and D Coys
Introduction
The posts for Ptes Jack Reibeling, Alexander Nickoloff and Gordon Marr, and Bill Patrick covered the end, as Maj Hugh Maclean later put it, of "the Argylls' part in the fighting on the western reaches of the Scheldt, and around what later became known as the 'Breskens pocket.' " The post for Maj Alex Logie took up the Argylls' re-entry into the field of battle on 20 October 1944. Two Argylls were wounded on the 21st and four more on the following day. The 23rd was another bloody page in the unit's history – 6 KIA and 24 wounded – as the battalion fought its way on the approaches to Wouwsche Plantages. Today's post features the all-too-brief but promising life of LCpl Norman Hubert James.
Robert L. Fraser
Regimental Historian
---
LCpl Norman Hubert James (1922–44) (B 103229)
KIA 23 October 1944
"Parents separated aged 5"
Norman Hubert James was born in Chicago, Illinois, on 13 November 1922 to Thomas Henry James (1891–1969), an English immigrant, and Florence Mae Fielde (1901–96), an American. They had married in Chicago on 2 August 1917. Son Arthur Thomas James (1919–97) was born early in 1919, then Norman in 1922; a daughter, born in 1924, died the same year. Norman's personnel forms note that his home life was "broken"; "Parents separated aged 5 [in 1927 it would seem]." His mother had daughters – one in 1928, another in 1929 – with another man, Harry A. Reid (1895–1974). There are indications that she had another spouse at some point as well. In 1934, Thomas Henry James and his sons immigrated to Hamilton, Ontario, after the breakup of his marriage. Tom James had no relatives in the United States, and his sister, Jennie Thurgood, lived in Hamilton (in a modest working-class house at 153 Connaught Avenue North). Tom James had dwelt in Canada before (possibly with his sister): from 1906 to 1910; from 1919 to July 1921; and then from 17 January 1929. Norman completed grade 8 at a "rural" school in Mountsberg (north of Burlington), leaving in June 1935 at the age of 13. He then had three years of mixed farming experience locally demonstrating familiarity, if not proficiency, with both tractors and teams of horses. He liked swimming and skating, and he played baseball and rugby.
"trucker foreman"
Norman James moved into Hamilton, where from 1940 to 1942 he was an "electrician's helper" with Comstock Electrical Contractors. It was, apparently, a job he liked, ranking it as his most important working experience. However, it paid only $23 weekly. His life was changing and a higher wage became more important than job preference. From 1942 to 1943, as a "trucker foreman" with Wallace Barnes Ltd. in Hamilton, he earned $40 weekly; he hoped to return after the war. The changes in his work history were mirrored in his personal life: he married Marie Eva Agnes on 16 August 1941 and they had Norman Reginald James on 8 July 1942. They rented a home at 47 Douglas Street in Hamilton.
"called up"
James was registered under the National Resources Mobilization Act (NRMA) (1940), a federal act calculated to reduce the clamour in parts of Canada for a more effective war effort. Original Argylls (enlistments from 1940 and 1941) as well as "old-timers" (reinforcements from 1943 and early 1944) were often hostile to NRMA reinforcements, sometimes called "Zombies." After a national plebiscite in 1942, the act was amended to allow the government to send conscripts overseas. The year 1943 proved pivotal for James: he became a naturalized Canadian in 1943 and had been "called up." James responded by enlisting for active service (it meant that his personnel number changed) in Toronto on 25 August 1943. He was 5', 7" (some records have 5"), 145 lbs, with hazel eyes, brown hair, a burn scar on his upper and lower left leg, and was missing the tip of his left small finger.
"a picture of unusual self-respect, confidence and aggressiveness"
The Personnel Selection Board officer (25 August 1943) took a keen interest in young James, who impressed him deeply:
This recruit has a compact physique … and an alert and erect bearing.

He is married and has a 15-month-old child. His brother is on active service with the U.S. Army. At present his wife is recovering from a nervous breakdown and he has other domestic problems of a temporary nature. It is his intention to go ACTIVE as soon as these matters are straightened out. This man has been on his own (since the age of 13 when his parents separated), and his attitude and appearance present a picture of unusual self-respect, confidence and aggressiveness, combined with a pleasant personality.
"This man is of a definitely superior type"
He has had little opportunity to develop sports ability or social interests outside of business. His domestic life, except for the present temporary situation, appears normal and his stability seems excellent. This man is of a definitely superior type, and seems to have every prospect of developing excellent N.C.O. ability. Prefers Armoured Corps for ACTIVE service and intends to request this training later. At present his most suitable allocation seems to be to Infantry (other).
"keen overseas service … good soldier type – suitable for NCO rank"
In November 1943, an officer noted that James was:
… progressing well in basic training – wife and child in Hamilton – pleasant, cheerful manner – in good health – keen overseas service – wife in fair health – makes no complaints – good soldier type – suitable for NCO rank.
"fine alert soldier who wishes to serve overseas as soon as possible"
On 21 December 1943, upon the completion of basic training and corps training, another officer deemed him a "fine alert soldier who wishes to serve overseas as soon as possible" and recommended him for overseas service "in Infantry (others) Operational."
After completing training at Camp Borden, Pte James received a two-week furlough in late January 1944 (spent, presumably, with his wife and son) before going overseas on 16 February 1944. Disembarking on the 24th, he reported for duty the next day. On the 28th, yet another personnel officer recommended him for the infantry while recognizing his "potential" to be a driver "with upgrading [the requisite courses]."
"aggressive, ambitious, and should do well"
Pte James's comportment is a recurring feature of the reports by personnel selection board officers. He never failed to impress them in terms of his various attributes, unsettling life experiences, attitude, and potential:
Stability seems good. Learning ability is high. Comes from a broken background, and was on his own from about the age of ten. Seems well-adjusted to the army, and should be highly trainable…. Has mechanical aptitude; considerable driving experience; has always done his own repairs; and should be excellent prospect for automotive trades. He is aggressive, ambitious, and should do well.
Pte James got his wish; he was overseas and heading to a unit destined for operations. The prospect of trades never materialized. On 13 March 1944, he joined the Argylls at Uckfield, England, part of the draft of 6 officers and 125 "other ranks that now comprise our first line reinforcements." They were, the unit's war diarist, Lt Milt Boyd, noted: "Precursors of coming events" and the "Morbidly inclined … can amuse themselves trying to pick out the particular replacement that will be filling their shoes if or when Lady Luck ceases to smile." Two months earlier, Cpl Bill Hollinsworth, for example, decided to forego the likelihood of sergeant's stripes because of Zombies. He was on a scheduled instructional rotation at the Canadian Infantry Reinforcement Unit, and returned to the Argylls prematurely because of a "phoney" atmosphere and NRMA soldiers.
Pte James was a rifleman, likely in D Coy commanded by Maj Bill Stockloser. Training included physical conditioning, two weekly route marches, and field exercises. It was a "hardening-up process" to "make this bn [battalion] able to compete with the best." There was more specialized training, river crossings, working with the divisional armour (the South Alberta Regiment), inspections, and time in the field. After D Day on 6 June 1944, the Argylls waited impatiently for the call to arms. Embarking in the UK on 21 June 1944, Pte James disembarked in France two days later.
"a day of rest"
There were a few days of acclimatization as the battalion slowly moved into the front lines and battle. The first casualties such as Ptes Percy Hindle and James Bannatyne, brought the realization "that it's war." By 2 August, they were under heavy artillery fire and sniper fire at Bourguébus. Throughout August, the battalion suffered unending casualties: at Tilly-La-Campagne (Pte Joe Carlton); Hill 195 (Lt Milt Boyd and Pte Dick McDonald; Igoville (Pte Joe Bearss); Hill 95 then Moerbrugge (Ptes Johnny Sawyer, Adolph O'Back, Cpl Bill Hollinsworth, and Pte Chris Jenkinson), Moerkerke (Capt Lloyd Johnston); and Sas van Gent (LSgt Jess Grey and Pte Paul Cole) in September. Casualties inevitably meant promotions; James was promoted LCpl on 20 September 1944: Lt Claude Bissell called it "a day of rest."
It was a comparatively quiet period until 15 October. During that interval, there were more reinforcements such as Ptes Nickoloff and Marr, and James would have been one of those trying to integrate inexperienced and possibly under-trained reinforcements into the battalion. One Argyll with an NRMA background, Pte Jack Reibeling was killed on 14 October.
"some of its most exhausting, trying, and least rewarding battles"
The Argyll battles in the Scheldt ended on 16 October and the battalion moved out that day "through Antwerp to an area near Brasschaert, in the pine forest two miles north of the city." For Maj Hugh Maclean the "coming days were to see the Regiment involved in some of its most exhausting, trying, and least rewarding battles." "Symbolically," he wrote, "summer was ending … Grey, stormy days, bleak mornings and cheerless afternoons and cold, shivering nights lay ahead." The approaches to Essen would be stained with Argyll blood.
"artillery laid down deadly concentrations … 'D'-Company was disorganized by casualties"
On the 23 October, the usually "dull and cloudy" weather "changed for the better." "The attack," wrote Lt Claude Bissell, the unit's Intelligence Officer and war diarist, "began rather unpromisingly." It had nothing to do with the weather.
Heavy enemy artillery laid down deadly concentrations on our forming-up areas so that even before the two attacking companies moved off, several casualties were sustained. 'B'-Company shoved off on schedule, but 'D'-Company was disorganized by casualties, among whom was the Company Commander, Major Farmer, and was delayed. The C.O. [LCol Dave Stewart] came forward, personally gave instructions to the one remaining officer, Lt. Ecclestone, so that the company was ready to begin its attack by 0830 hours.
"severe casualties"
Despite, as Maj Hugh Maclean put it, "severe casualties," Stewart moved D Company out and the Argylls were on their objective by 1100 hours. Whether LCpl James was killed while D was forming up or in the subsequent attack is unknown. Such is battle. Capt Sam Chapman captured it when he wrote of the battalion and its casualties, especially the dead: "his comrades may be there but are so involved with the task in hand that they can give him scant attention." Lady Luck ran out that morning for LCpl Norman James and five other Argylls (there were also 24 wounded); the next day would be worse.
Padre Charlie Maclean buried LCpl James on the 24th at "Capellenbosh By Muls Family Shrine." As was customary, he put together a small burial party and arranged for a piper. Like all Argylls, LCpl James was laid to rest lovingly and reverently by this good man. The last days of October would be trying ones for the padre. LCpl James was among those he attended to over these bloody days, arranging the burial parties and the piper, sorting through their personal effects, burying them in temporary graves, handling a lot of the necessary paperwork, and writing consolingly to Marie Eva James and her young son as he did for all of the fallen. The effect must have been shattering on her young life.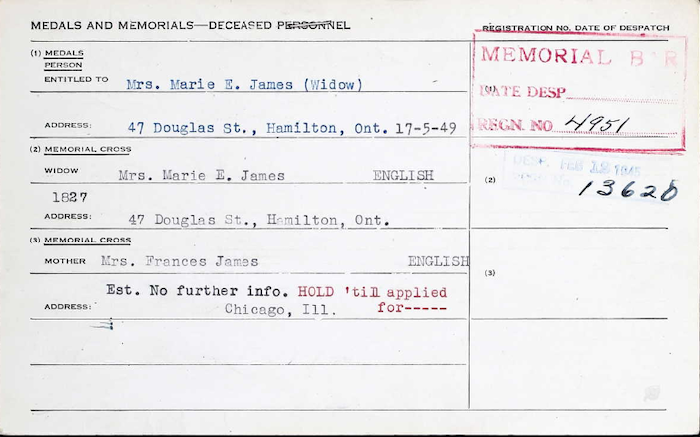 The obituary mentioned Mrs James, their son, and Norman's father. Then LCpl James, like his family, disappears; Marie James seems to have been living at their home on Douglas street as late as 1949. He left much more than the usual array of personal effects. There were the commonplace souvenir coins or currency, pencils, pens, flashlights, chains, rings, keys, cigarette cases and lighters, letters, and "Snaps," but also a miniature flag, a "tin case W/Necklace," greeting cards, four pen knives, five souvenir badges, four religious medals (he was a Baptist), a rosary case, five souvenir purses, and one mouth organ.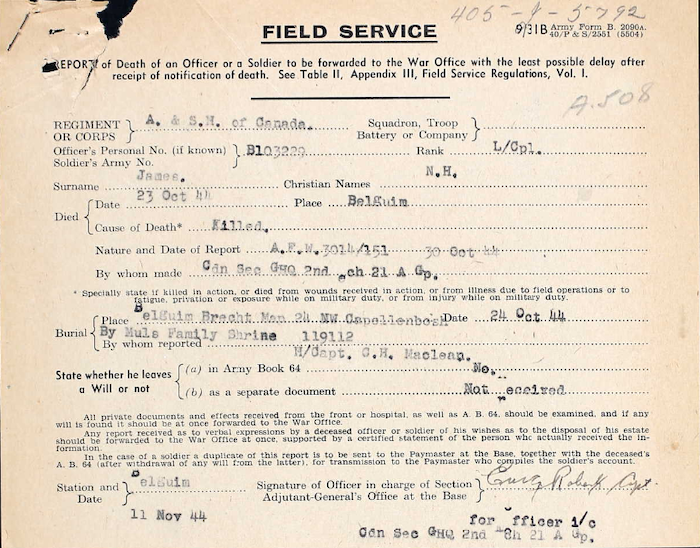 In his few years, Norman James lived by his wits and tried to live well, impressing those who came, through the army, to know him – another, as Capt Sam Chapman would have it, "cut down in an instant with all his future a page now to remain forever blank. There is an end but no conclusion."
---
"a history bought by blood"
– Capt Sam Chapman, C and D Coys
"Death in battle is different" – We shall remember him – The Argyll Regimental Foundation on behalf of the serving battalion and the Argyll Regimental family
---
Robert L. Fraser
Regimental Historian
LCpl James's poppy will be placed in the virtual Argyll Field of Remembrance in the near future. The Argyll Regimental Foundation (ARF) commissioned Lorraine M. DeGroote to paint the Argyll Poppy (below) for the Field of Remembrance.